Reader John Wawrzonek is more than a little frustrated by the limits of Leopard searching. He writes:
I have hundreds of very high resolution images with many variations of each image scattered among five large drives (total 2.5 TB). Smaller versions of these images are on a sixth drive.

On Panther I was using smart folders to beautifully find for me all versions of a certain type across all images (mostly searching for specific codes in the file name or for codes in the comments field).

However, since Apple took away the option in Leopard of specifying for each smart folder individually which disks to search, the smart folders have become almost unusable. Are you aware of any workarounds or, especially, applications that restore this "smart driver search" capability to Leopard?
I am. Before I provide that answer allow me to lay a sympathetic arm across your shoulder and agree that Smart Folders are not nearly as smart as they ought to be. In a situation where you want to designate multiple search sources—Drives 1, 3, and 5 but not 2, 4, and 6—Smart Folders is useless. Rob Griffiths, our resident Leopard critic, has written at length about issues like this and I agree with him. While Spotlight has improved immeasurably since Tiger, it seems like Apple's Search Team considered the job done once Spotlight lost its lameness.
And now to the answer: Houdah Software's €15 HoudahSpot.
Rob has written an extensive review of HoudahSpot 2.x, the current Leopard-compatible version of this remarkably flexible search application. I urge you to read it if you're routinely frustrated by the limitations of Leopard's search capabilities.
For the purposes of your question, John, you need know only that you can tell HoudahSpot exactly which areas of your Mac and its attached volumes to search and you can save your searches as templates or saved search documents that you can easily return to. And yes, just as with Smart Folders, HoudahSpot searches are dynamically updated. So, for example, should you add half-a-dozen of these high resolution images and have HoudahSearch configured to look for them, within a second or two of adding them, they'll appear in HoudahSpot's results.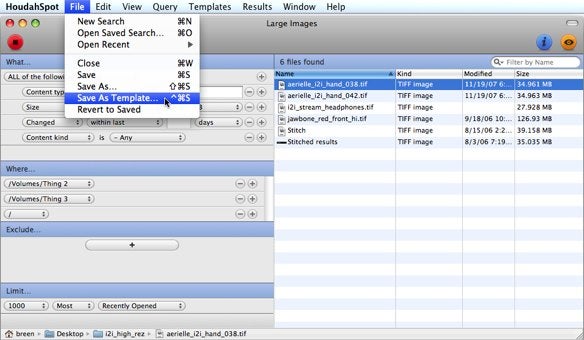 Also note that HoudahSpot installs a Finder menu item that includes any search templates you've created (as well as templates bundled with the application). This means that locating your files is just a click away.