Apple first announced Mac OS X Snow Leopard in June and said it would ship in about year. However, a slide presented by an Apple employee at a recent conference suggests Snow Leopard may be ahead of schedule.
The slide shows Snow Leopard will ship in the first quarter of 2009. That's three months earlier than Apple said the operating system would ship at its Worldwide Developers Conference last June.
Jordan Hubbard, Apple's director of engineering for Unix technologies, showed the slide at the Large Installation System Administration Conference, in San Diego last week. Officially, Apple said they haven't changed its timeframe for release Snow Leopard.
"Last June we said we would ship Snow Leopard in about a year and haven't made any further announcements about it since then," Apple spokesperson Bill Evans, told Macworld.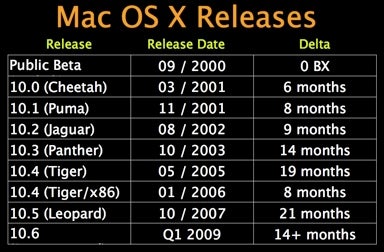 Apple confirmed in June that Snow Leopard would focus on performance enhancements rather than new features. The OS X update will be optimized for multi-core processors and enable "breakthrough amounts of RAM." Apple also promised a new, modern media platform with QuickTime. The update will also offer out-of-the-box support for Microsoft Exchange 2007.
The updated operating system will also feature OpenCL—or Open Computing Language. OpenCL is the latest manifestation of a processing technique that's been around for a while known as General-Purpose Computing on Graphics Processing Units. GPGPU helps to offload a personal computer's computationally intensive processes to its graphics chip, such as those that might be found on a Mac equipped with an ATI or Nvidia graphics card or processor.