At a Glance
Expert's Rating
Pros
Great sound
Flexible playback options
Intuitive interface
Scads of online content
Seamlessly integrates local and streaming audio
Three controller options
Cons
Won't import lots of playlists from massive iTunes libraries
Won't play protected audio from iTunes Store
Our Verdict
Read enough reviews and you understand that part of a reviewer's job is to present an unemotional—even detached—evaluation of Product X, Y, or Z. For this reason, you almost never see reviews that begin:
"Oh, my stars and garters, this thing is amazing!!" because such effusive language is likely to cast the objectivity of the review in doubt. To bypass that doubt I'll begin my review of the latest iteration of Sonos' Multi-Room Music System with:
Oh, my stars and garters, this thing is amazing!
(Note the more restrained single exclamation mark.)
Regardless of how you punctuate that statement, it's true. The Sonos Multi-Room Music System is amazing for a variety of reasons. They include its simple design and ease of use—getting the Sonos system set up and packed with music is mostly a cinch (I'll indicate where it isn't later). It's also easy to access audio files stored on computers and storage devices on your local network as well as listen to streaming audio from such sources as terrestrial radio, Internet-hosted podcasts, Rhapsody and Napster subscription music services, the Pandora and last.fm music services, and SIRIUS Internet radio. And what iPhone or iPod touch owner wouldn't be thrilled by Sonos' free iPhone/iPod touch controller application, which nearly duplicates the functionality of Sonos' $400 CR100 hardware controller (making it possible for frugal shoppers to skip the hardware controller altogether)? Oh, and the music that comes out of it sounds great.
My colleague, Dan Frakes, has previously reviewed the original Sonos Digital Music System and the Sonos ZonePlayer 80. In the first review you'll learn the nuts and bolts of what makes the Sonos systems work. The second review provides information on Sonos' first amplifier-free player, the ZonePlayer 80—the current ZonePlayer 90 (ZP90) replaces it. Read those two reviews and you'll understand what makes the Sonos system tick. Beyond that ticking, let's look at what's recently happened with the Sonos Multi-Room Music System.
My setup
The review units sent by Sonos included the $999 Sonos Bundle 150 With Free Charging Cradle (this bundle includes the $499 ZonePlayer 120, the $349 ZonePlayer 90, the $399 Sonos Controller CR100 hardware, and $40 charging cradle for the controller), the $99 ZoneBridge wireless bridge, and the $179 Sonos SP100 bookshelf speakers.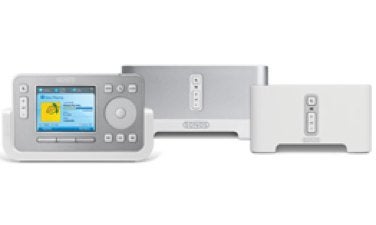 The ZonePlayer 120 is a 55W-per-channel amplified player that includes two Ethernet ports, RCA analog outputs and a subwoofer output, and two speaker connectors. The ZonePlayer 90 has no amplifier, two Ethernet ports, an analog RCA input for attaching a device such as a CD player, radio, or TV that can then be streamed to other ZonePlayer units; RCA analog output; and coaxial and optical digital outputs. The ZoneBridge attaches to your router and is used to channel Sonos' music to ZonePlayers—helpful when you don't want to place a ZonePlayer next to your router (you must have a wired connection between your router and either a ZoneBridge or ZonePlayer). The CR100 is Sonos' intuitive but somewhat bulky wireless controller, complete with color display and wheel controller similar to the iPod's original, non-clickable wheel. The SP100 speakers are unpowered, feature a 5.5-inch woofer and 1-inch tweeter, and are rated by Sonos at 75Hz – 20kHz.
My upstairs router is in a room without speakers so I put the ZoneBridge to use in that room. In the living room I attached my B&W speakers to the ZonePlayer 120. The downstairs office got the ZonePlayer 90 connected to a pair of Audioengine 5 powered speakers.
Having made the hardware connections, I installed the Sonos Desktop Controller 2.7 software. It walked me through the process for configuring the ZoneBridge and ZonePlayers and making them aware of my music. The process involved little more than moving to the ZoneBridge, pressing a button, and then pressing a couple of buttons on each of the ZonePlayers. No big deal.
The next task was getting the software to see my iTunes library. This was problematic at first as the software refused to add the tracks I'd stored on an external drive. A quick search of Sonos' Web site revealed that on a Mac running Leopard you have to switch on SMB sharing in the File Sharing section of the Sharing system preference. Once this is done, the software is happy to list the contents of your iTunes folder. You can then additionally add locations on other devices and computers where you've stored music. This includes music stored outside your iTunes Library—on a network-attached storage disk or scattered across several hard drives, for example.
The next (and final) glitch was getting the software to add my iTunes playlists. Try as I might, it wouldn't. I contacted Sonos and learned that the Sonos system will support an iTunes library as large as 65,000 tracks. iTunes playlists must have 40,000 or fewer total entries in all your playlists. Although I didn't hit the 65,000 track limit, I had a lot of playlists with lots of duplication, and this was what prevented those playlists from being imported by the Sonos software. Once I deleted some of my playlists in iTunes the software made them available to the Sonos controllers.
Once the desktop application was configured properly, it took a few minutes for the software to index the contents of my iTunes library and make my music available to the Sonos controllers. Those who are familiar with the Sonos system understand that when you add new music to your library you also have to update the index before the Sonos sytem can play the new tracks—and that means every time you add new music. Sonos has made this more automatic by including an index updating scheduler to the software. Just choose Music -> Schedule Music Index Updates and a sheet appears that lets you schedule a time for the software to automatically reindex your music library. It's not quite plug-and-play, but it's better than the old leave-it-to-the-user manual method.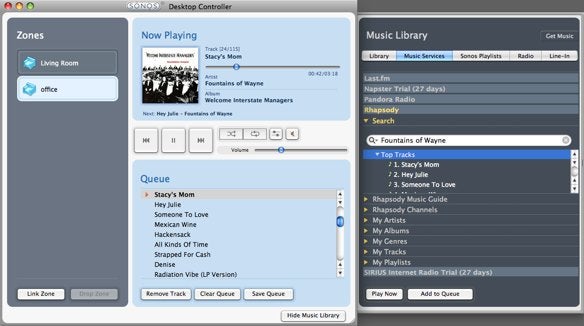 Steps forward
This ability to schedule music index updating isn't the only important change to come to the Sonos system since our last look. The last few iterations of the system have introduced support for the Rhapsody and Napster music subscription services, Pandora and Last.fm, SIRIUS Internet radio, and over 15,000 radio stations, shows, and podcasts streamed over the Internet.
The very fact that this kind of content is now available to the Sonos system is noteworthy but its existence is just the beginning. Nearly as importantly, it's also beautifully integrated and easily played.
For example, I'm a Rhapsody subscriber. I simply entered my subscriber information into the software controller and the contents of the Rhapsody service were available to me in the software, CR100, and iPhone/iPod touch controllers. Just select Rhapsody in the interface and you can search for artists, albums, composers, or tracks; play a Rhapsody channel (Punk, Hawaii, or Reggae, for example); and play tracks, add them to a playlist, or place them in the queue.
True, you can do all this with your Web browser. But get this: You can add tracks from Rhapsody, Napster, and from your local music library (your iTunes library, for example) and then save it all as a Sonos playlist. At any time you can pull up this playlist and the Sonos system retrieves and plays the music regardless of whether it's stored a room away or half-way across the globe—and that's playing the playlist from beginning to end or shuffling. There's no interruption, it just plays as if all your music was stored in the same location.
Plus, it happens quickly. Much as I like Rhapsody's convenience and selection, it can hiccup on my Mac. The Sonos system provides solid streaming and playback and it's quick to find the content I want. And by way of a sonic bonus, the latest Sonos software provides 192 kbps MP3 Rhapsody streams rather than the old 128 kbps WMA streams.
Radio, radio
The Radio entry on a Sonos controller is more than just an avenue to scads of terrestrial radio station streams playing whatever happens to be on at the moment. You can also access a cache of some older radio shows—many NPR programs including Fresh Air, Car Talk, and Talk of the Nation, included—as well as popular podcasts including the BBC's PoV, New York Times' Science Times, and Leo Laporte's TWiT.
Finding the radio content you're after is easy enough. After selecting Radio in the controller, choose Search and seek out stations by call letter, specific show, or host. You can also listen to local stations. After you tell the controller where you are, it lists stations within your area.
And you can browse stations by category—Music, Talk, and Sports. The Music category is sorted by genre (Adult Contemporary and Electronic-Dance, for example) and Talk by topic (Business, Health, or News, for instance). Some of these genres and topics are broken down even further on a succeeding screen. And you can also search by Location—choosing a broad area such as Australasia, selecting a country within that area, and then choosing a city and station within that country. You can add stations to a list of favorites, making them easier to find in the future.
Wake up and go to sleep
Version 2.0 of the Sonos software introduced the Alarms and Sleep Timer features and they're nice to have. As the name suggests, the Alarm feature lets you create an alarm specific to a particular zone. All you have to do is choose a time, a frequency (Once, Mon – Fri, Weekends, or Every Day), choose what you'd like to hear, and set the music's volume and duration. Regrettably, while you can create an alarm with the CR100 or Controller software, you can't do it with the iPhone/iPod touch application.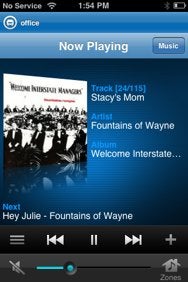 Similarly, you can create a sleep timer of 15, 30, or 45 minutes, or one or two hours. This can't be scheduled—just set it up when you'd like it to happen. This too can be activated with the CR100 and Controller software but not the mobile application.
Why not Remote?
But doesn't Apple's Remote iPhone/iPod touch application coupled with a few of AirPort Express Base Stations accomplish the same multi-room-music thing? Only in part. First, AirTunes—the technology for streaming music wirelessly from a computer to AirPort Express Base Stations and Apple TVs—streams the same music to every Base Station or Apple TV. You can play different music on different ZonePlayers, all the while controlling the entire network of ZonePlayers with a single controller. (You can play the same music on all ZonePlayers if you like.) Sonos also supports a wider variety of audio formats including Ogg Vorbis, FLAC, WMA as well as the expected AAC, MP3, Apple Lossless, and Audible (Format 4) formats. (Apple continues to prevent Sonos from playing audio files encrypted with Apple's digital rights management. Unprotected iTunes Plus tracks, however, will play.) And, of course, iTunes and AirTunes don't provide access to Rhapsody, Napster, SIRIUS, Pandora, Last.fm, and most terrestrial radio stations. I like Apple's Remote application a lot, but when you look at what it and Apple's hardware have to offer and what's on Sonos' more expansive music menu, there's no comparison.
Macworld's buying advice
I gave away the ending at the beginning of this review, so let me just restate that I think the Sonos Multi-Room Music System is amazing for its convenience, sonic quality, and talent for seamlessly integrating local, networked, and Internet audio. And the ability to control nearly every part of the system via the iPhone/iPod touch client (thus saving you the cost of the CR100) is nothing if not generous. The system, from hardware to sofware, is beautifully thought through. I'm seriously thinking of purchasing a system that includes a ZoneBridge and two ZonePlayer 90s once I ship back the review units. Cheapskate though I may be, I like it that much. My guess is that you will too.