At a Glance
Expert's Rating
Pros
Ability to edit, track changes, and add notes in Story and Galley views
Can create single-page spreads
Can create multiple versions of a document via conditional text
Tabbed-document support
Multiple views
Can share screen with remote collaborators via the Web
Lets you create hyperlinks and dynamic cross-references
New Application bar and Application frame facilitate easy document editing
Redesigned Links panel is convenient
Cons
No way to globally accept/reject changes in documents
Notes feature still limited in Layout view
Our Verdict
Adobe's latest version of InCopy, the companion program to InDesign ( ) that lets writers and editors work on a document concurrently with the designer, offers a host of significant new features and enhancements. Chief among them are expanded support for table editing, the ability to create dynamic cross-references, and a conditional-text feature that lets InCopy users work on different versions of the same document for different audiences—say, a how-to guide for both Mac and PC users—from within the same InDesign file.
This new version of InCopy is part of Adobe's Creative Suite 4 release, although you must buy this program separately. While InCopy integrates closely with InDesign to create a collaborative publishing workflow, writers and editors can also use InCopy by itself to create stand-alone (.icml) documents independent of an InDesign layout. To take advantage of at least one of this release's new features, however, you'll need to use the InCopy-InDesign workflow, in which the designer and the wordsmiths work on a layout in tandem.
Expanded table editing
Editors, who until now have been able to edit a table's contents only in Layout view, will cheer InCopy CS4's new support for editing tables in Story and Galley views. This capability means that editors can also now track their changes to table contents in those views, and more easily communicate with colleagues by adding notes within individual table cells. No more having to print out tables to mark edits on the hard copy.
In Story and Galley views, each cell in a table row appears on its own line. You can click a disclosure triangle to toggle the display of table rows on and off in these two views for readability.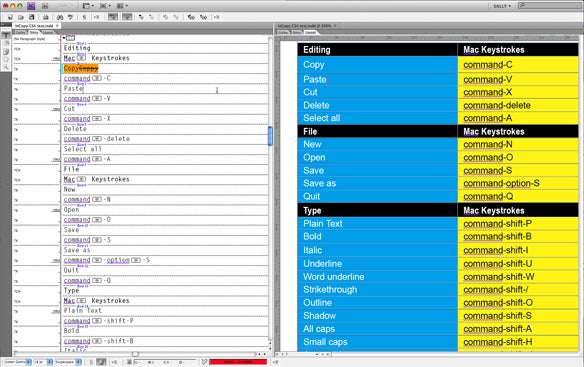 Enhanced productivity
A new hyperlink feature lets you quickly add links to text on-the-fly via the new Hyperlinks panel. You can link to other pages in a long document, to external files, or to Web URLs. You can then test the link from within InCopy.
The Hyperlinks panel is also home to the new Cross-References pane. This feature makes it easier for you to work on long documents and easier for your readers to navigate them. For example, if you add a cross-reference to a different chapter in your document and later change the chapter's title or its page number, the cross-reference will update automatically.
Multiple document versions
InCopy CS4 supports the conditional-text feature introduced in InDesign CS4. For managed InCopy files—that is, InCopy stories that are attached to an InDesign layout—the designer must first create the conditions in the InDesign layout before the InCopy user can apply them to specific text. In a stand-alone InCopy document, you can both create and apply conditions—when the .icml file containing the conditions is placed in the InDesign layout, the conditions are added to the Conditional Text panel. So, for example, if you were creating a how-to manual for Mac and PC users, you could create one condition that would display the Ctrl key for PC users and another that would display the command key for Mac users. Previously, the designer would have had to either create two different files or place the two versions on different layers.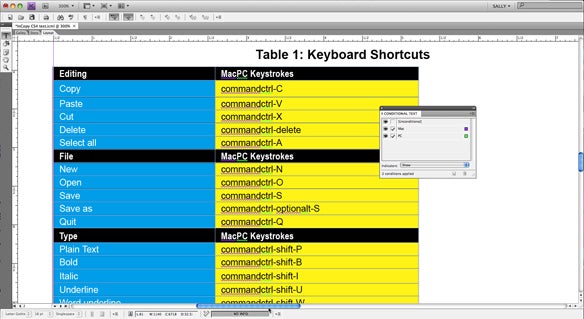 Interface updates
Several interface enhancements streamline the InCopy work process. One new feature is the Application frame, an option that has been the default view in the Windows version. The Application frame encloses all of your InCopy documents and panels within a single window to block out background distractions, making your workspace easier to see and work in. The Application bar is new for both Mac and Windows users. Using the Application bar's accessible control buttons, you can quickly modify the document view (to hide guides, for instance) and switch among a slew of commands to arrange multiple open documents. You can also use the bar's new Workspace Switcher pulldown menu to quickly select from a number of task-specific workspaces. For instance, you could change from your default workspace to a custom table-editing workspace that displays only the panels and menus you need when working with tables.
Another nice addition to the interface is support for tabbed documents. Similar to the way many browsers let you neatly organize windows into tabs, InCopy's tabbed-documents feature makes managing multiple files easier.
The Links panel now displays thumbnail images of files, and has been redesigned to offer extensive, customizable data about linked files, including creation and last-modified dates, the name of the last person to edit the story, tracked-changes status, and much more. Having all of this information close at hand makes managing files easier.
More features
Other notable additions include the ability to create stand-alone InCopy documents consisting of single-page spreads rather than the previous version's default two-page spreads, and the ability to work with rotated spreads for easier editing. This last feature is something you can do only in managed InCopy files: the designer must rotate the spread in InDesign before you can edit it in the altered orientation. This comes in handy if you have to edit photo credits, which typically appear vertically along the outside edge of a page.
Integrated screen sharing is another nice enhancement. While it's possible to collaborate with others via Acrobat.com, now you can share your screen with up to two remote users directly from within InCopy by choosing Share My Screen from the File menu. As the host, you need a broadband Internet connection, a browser running the Adobe Flash Player 9 plug-in, and an Adobe ID; your guests need only an Internet connection and a browser running the Flash plug-in. Once you e-mail them a URL to the "meeting room" and admit them to the session, you all can view your screen and make changes to it in real time, if you choose to give them permission; the screen was a bit slow to show the changes in my experience, however. All changes are tracked in Story and Galley views, assuming you've turned that feature on in your InCopy document. Screen sharing could come in very handy if you need to consult with a colleague who's on the road.
Still waiting
Perhaps a future release will address some items that have long been on my InCopy wish list. I'd like the ability to accept or reject a document's tracked changes globally rather than just story by story; in a document containing 20 or more stories, this would save a lot of time. And I wish the notes feature were more powerful in Layout view. As it is, reading the contents of a note by hovering your cursor over the note icon in that view is a cumbersome process (especially because that symbol can be hard to see and select). The easiest way to read all the notes in Layout view is to click on the navigation arrows in the Notes panel to move through them—but that's still a pain. Also, it'd be nice to be able to select a string of text, and attach a new note to it, the way you can with Microsoft Word's ( ) Comment feature, so you could clearly indicate the portion of text your note refers to.
Macworld's buying advice
InCopy CS4 addresses a major omission in previous versions by adding the ability to edit and track changes in tables. That alone makes this new version worth serious consideration by anyone who works with tables. Add to that the conditional-text and cross-reference features, a more powerful Links panel, and a variety of interface enhancements, and InCopy CS4 is a tempting upgrade. And certainly, if your workgroup makes the move to InDesign CS4, you'll want to upgrade to InCopy CS4 to maintain compatibility and take advantage of all the new features.
[Sally Zahner is Macworld's assistant managing editor.]