The Iconfactory and Artis Software on Wednesday announced the release of Frenzic for the iPhone and iPod touch. It costs $4.99.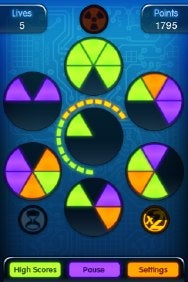 Based on a game already available for Mac OS X, Frenzic is a fast-paced action puzzle game in which you must fill circles with wedge-shaped pieces of varying colors. If you complete certain circles you'll earn power-ups; you can also earn extra points by completing circle with the same color wedges.
The game starts slow and gets faster quickly; you can also compare your scores against other players on the Frenzic.com Web site. Frenzic supports Location Services, so you can find opponents nearby. And as you become more skilled, you increase your levels of "Devotion" from Newbie to Frenzic Grandmaster.
Frenzic requires an iPhone or iPod touch running the iPhone 2.1 software update.