Speck on Thursday announced the forthcoming expansion of its SeeThru hard shell case line with a new " SeeThru Satin" model aimed at Apple's new MacBooks. The new design is expected to ship before the end of the month and will cost $49.95.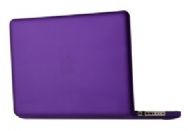 The SeeThru Satin features a smooth-touch rubberized exterior coating, but it's a hard shell that protects the MacBook from scratches and dings. It's a two-piece design that provides access to all key features and functions, including the side battery indicator button, trackpad, keyboard and all connection ports.
Rubber feet on the bottom half of the case help keep the MacBook stabilized on slippery surfaces. The shell is also vented to provide optimal heat dissipation.
The SeeThru Satin is coming in black, purple and red, and Speck said that additional colors are coming in January, 2009 (ostensibly around the time of Macworld Expo).