Alpine has introduced the TUA-T550HD tuner, a new HD Radio tuner for automobiles. It costs $230 and is available now.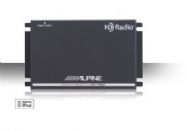 The TUA-T550HD lets users listen to HD Radio, a system that enables existing AM and FM radio stations to transmit higher-quality audio along with data without incurring any fee to the user, unlike satellite radio. More than 1,800 radio stations nationwide are now using the technology.
The HD Radio tuner is designed to work in conjunction with any of Alpine's 2007-2008 model head units equipped with "Ai-NET," Alpine's digital connectivity interface.
With the TUA-T550HD installed in conjunction with Alpine's iDA-X100 Digital Media Receiver and an iPod in the vehicle, you can "tag" the songs you hear that you're interested in by pressing a button on the head unit interface. The next time you sync your iPod to your computer, it will download information about that song from the iTunes Store so you can buy it.