It's been nearly two years since Steve Jobs first demonstrated the iPhone, a move that shocked the mobile phone industry. The iPhone wasn't just a "bit better" but a completely different approach. In the 18 months that the iPhone, and then the iPhone 3G have been on sale we honestly couldn't even consider another phone; now we have two to look at. The first is this one, RIM's Vodafone (the second is the T-Mobile G1, or Google phone as it's better known).
Is it us or has the smartphone market just got a little bit crowded?
Of course, competition is a great thing because it means more choice for us all, and with more choice you're more likely to get the sort of features you want. It's also more likely to put the pressure on everybody to continuously improve, rather than stagnate… so we welcome the BlackBerry Storm 9500 with open arms. This is the first mobile phone we've seen that we would seriously consider buying instead of an iPhone 3G.
What's great about the BlackBerry Storm 9500 (and to an extent the T-Mobile G1) is that it's not an "iClone." Although it sports a large touchscreen display, and it's clearly RIM's answer to the iPhone (not to mention the phone that RIM hopes will claw back market share), it hasn't simply copied the iPhone blueprint. Instead, RIM has taken everything that's good about previous BlackBerry phones, and made a full-on touchscreen model.
The BlackBerry Storm is something of a departure for RIM, and not just because it's the first touchscreen BlackBerry. It's also a handset that has been jointly designed by its customers – the mobile phone operators Verizon and Vodafone. Unlike most other mobile phones, which launch initially on one mobile phone network but are later rolled out and offered by several, the BlackBerry Storm is completely tied in to these two carriers. In this sense it is more like Apple's iPhone model, which is only available from O2 in the UK and AT&T in the U.S.
The 3G versus Wi-Fi issue
In some ways, this makes it easier for us to assess the Storm's performance. Aside from the effectiveness of its) touchscreen, it will live or die based on its 3G mobile connectivity. Vodafone's and Verizon's are very good.
Of course, much depends upon the carrier's provision in your particular area. You can check Verizon's coverage for the BlackBerry Storm via its coverage locator. AT&T offers a similar coverage map.
Another consideration is Wi-Fi, or rather the lack of it on the BlackBerry Storm. This is a strange omission and one that we suspect comes from involving the carriers in the design stage. It turns out that having Wi-Fi on the iPhone is pretty handy, especially when you're at home – although the promise of citywide Wi-Fi from services such as The Cloud haven't lived up to our expectations.
Size, specifications and that "clickable" screen
The 5.5-ounce handset is physically larger and heavier than other BlackBerry phones. It has a brushed aluminium back with a rubber surround 3.25-inch transflective screen that dominates its front. By comparison, the iPhone weighs 4.7 ounces and its screen is 3.5 inches measured diagonally.
Unlike other phones, the Storm's touchscreen is not just "touchable" but "clickable", so to select an option or a specific area of a web page, you press down firmly – the entire screen clicks down a few millimeters. This means that the Storm has two levels of input (a touch and a click) which has been used to advanced the interface. Once you get used to pressing a bit harder than you would on other touchscreen devices, it becomes quite satisfying, but we did have to train ourselves to apply that extra pressure.
After using the BlackBerry Storm for a few days we are still unsure as to whether we actually prefer the click of the Storm to the touch of the iPhone. We are of the impression that it may well be a love-it-or-hate-it proposition.
The Storm's onscreen icons are the large smart ones introduced on the BlackBerry Bold and are the ideal size for selecting with a thumb or finger. Typing on the Storm is wholly different experience than on previous BlackBerry smartphones, though – it's also completely different to the iPhone.
Take a letter with the BlackBerry Storm's keypad
When used in portrait or standard phone mode, you are presented with a two-character-per-key SureType layout. This is the same keyboard layout that was used on one of our all-time favorite mobile phones (pre-iPhone, of course), RIM's BlackBerry Pearl. SureType is a very different approach to the one used on the iPhone. It has a two characters-per-key approach, but is pretty good at divining what you are attempting to input and suggesting words, but far too often we found it didn't recognise which of the two keys we wanted—not so useful when entering names or other character strings that aren't listed in a standard dictionary. However, you can backspace and press the button again, and it picks the other letter. SureType's a love-or-loathe affair, but it's served BlackBerry well over the years and we prefer to see this approach than a ham-fisted attempt to copy Apple's smart predictive text functionality.
Although RIM assured us that the glowing blue halo that appears around your finger to confirm that you've pressed the intended button means users will be able to type confidently on the Storm, in practice, we found entering text using the SureType keypad a clunky process.
It's far more effective to turn the Storm on its side and enter characters using the more familiar Qwerty layout. For some insanely odd reason the iPhone still won't let you compose emails with the horizontal QWERTY keypad, instead that's limited to entering Web URLs. You shouldn't underestimate the advantage that a horizontal QWERTY keypad offered by the BlackBerry Storm has over the stubby vertical keypad offered on the iPhone.
As with the iPhone, the Storm contains an accelerometer that automatically reformats the onscreen display when you switch orientation, so you don't need to invoke any special menu option to bring this up – just turn the Storm sideways whenever you want to compose an email or text message. Given that Dataviz's Word To Go, Sheet To Go and Slideshow to Go come preloaded and can be used to open, edit and resave documents on the Storm, before sending them as attachments over email, it's important that text entry is efficient and accurate.
Making calls and keeping contacts
The other area it's vital that the Storm gets right is, of course, basic phone and contact features. Here, as ever, the BlackBerry really shines. You can import contacts, synchronize them, add them on the fly and associate ringtones and photos as well as email addresses and search for them. Four Web addresses, three locations with fax, page and phone numbers, plus notes on each contact can all be added.
The voice-dialer feature hooks into this too and can be initiated via the silver hardware button on the Storm's lefthand side. There's a large microphone above the BlackBerry branding at the top of the screen. Audio output from the speaker is pretty loud too. Calls we made were clear and remain central to the Storm's setup: pressing the green phone handset icon takes you straight to a keypad, with the address book and call log listed as options above it.
The audio feature can also be used to record voice notes to yourself (if you prefer these to creating Task lists – both options on the main menu). SMS and MMS share an icon but, again, are default options on the Storm's main screen. As with email, you can compose messages and send attachments – whenever you take a photo using the Storm's 3.2-megapixel camera, you are given the option to send it as an MMS – something that Apple resolutely refuses to put on the iPhone 3G. Although we still maintain that sending pictures via email is a better option, the fact that MMS is widely used by the non-smartphone owning public makes it a welcome feature addition.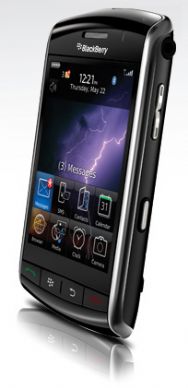 And while we're on the subject of welcome features that users are clamoring for, let's not overlook (cue fanfare) cut-and-paste. BlackBerry has shown Apple how it's done, by using the same multi-touch technology used in the iPhone 3G. Here's how it works: you put one finger at the start of what you want to copy, and one finger at the end to highlight text; then press the Menu button to select 'cut' or 'copy'. Now, this is a feature that we haven't really felt the need for but the Macworld readership has being quite vocal about the lack of cut-and-paste on the iPhone. RIM's solution doesn't work well enough for us because it is fiddly beyond belief ("using this would drive you mad," said one of our testers). But in the absence of anything better from Apple this is an area where RIM scores a point, just.
One thing we'd like to point out is that RIM is claiming multi-touch on the BlackBerry Storm because of this function, but don't be fooled into thinking that the Storm has the same kind of pinch to zoom multi-touch feature from the iPhone. The multi-touch seems to only apply to the cut-and-paste.
Watching photos and video, and browsing the Web
The camera – a step up from previous BlackBerry handsets and the iPhone 3G – has both a zoom and a flash. The zoom is digital, though, so it's not really zooming in (just making the picture smaller). We also like the fact that you can rename files on the fly and instantly send them to a contact. Again, this isn't the first BlackBerry with this facility, but it's worth having.
What's different about using the camera is that the zoom must be operated using the hardware volume keys on the righthand edge of the handset. However, you can zoom in incrementally with quite a lot of control and the sensor is able to work out which is the main subject of your shot and optimise its operations around this. Taking a snap isn't an instantaneous process, however.
Deep down neither the BlackBerry Storm or the iPhone 3G are good cameraphones. If you want a snapshot cameraphone, and pictures are more important than email or Web access, try a Sony Cyber-shot instead.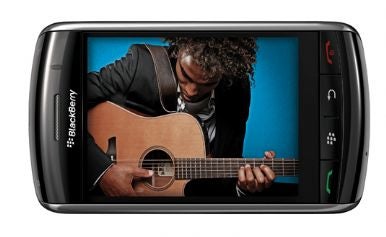 Video is worth trying too. The excellent vibrant and detailed screen lends itself to video playback – the sample videos we were given to test this feature were glamorous film trailers, but we activated the YouTube application and imported some footage of our own to see how a more average video clip would look. The fairly ropey wildlife clip we tried was full of artifacts, but we ran the clip on the Storm alongside the T-Mobile Android G1 and was noticeably brighter on the Storm. Part of this may well be because the Storm has a glass screen rather than a plastic one (as on the G1), but we know which we'd sooner use to view video.
When it comes to Web access, the fact that the Storm is a 3G handset really comes into play. The browser offered us Mobile versions of major websites, but we had no trouble viewing content on the non-optimised Macworld UK Web site. To zoom in to items you can double-tap the area in question, or you can use the onscreen magnifier icons to zoom in and out (unlike the iPhone there is no pinch-to-zoom feature). You can also slide a finger across the screen to scroll around.
While not quite as accomplished or as accurate as the Web browser on the iPhone, it is easily the best BlackBerry web browsing experience so far and a huge leap forward for existing BB customers who have been frustrated about this key aspect. If you've got a non-3G BlackBerry phone and wondering whether to upgrade, the data connection and browsing experience alone should convince you to do so. Whether we'd move from an iPhone 3G to a BlackBerry though is another matter. We still think the iPhone 3G is the best way to access the Web from a mobile device.
Syncing a BlackBerry Storm to a Mac
Mac owners can rejoice because venerable syncing company, Mark/Space has already added support for the BlackBerry Storm. You will need to purchase Mark/Space's Missing Sync for BlackBerry application, which at $40 is worth every single penny.
One of our key criticisms of the BlackBerrry Bold was that RIM hadn't supported the Mac and hadn't worked with other providers to enable Mac support on day one. Our guess is that because Mark/Space has now managed to add support for the BlackBerry Bold (a 9000 model) it has also been able to add support for the BlackBerry Storm (a 9500 model). Either way, this means that the Storm is a viable option for Mac owners.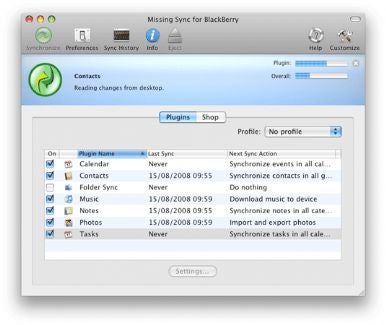 The Missing Sync for Blackberry enables you to sync Calendars, Contancts, Music, Notes, Photos and Tasks, plus specified Folders.
We wouldn't recommend spending much money listening to songs on the BlackBerry Storm, however – at least not without dumping the nasty plastic earphones it comes with. We found these painful to wear even with their protective muffling. The Storm has the same 3.5mm standard headphone jack you get on the iPhone, so any earphones that are compatible with this will also fit into the Storm's headphone socket.
Having made the switch, you'll find the Storm's media manager a pleasure to use. The quality of the two sample songs we downloaded was every bit as good as that of the album we had transferred from our PC. Had we built up a large collection of music, we could use the search to scoot through tracks, while a playlist manager allowed us to instantly add a song to an existing playlist or create a new one.
One thing of note is that like all non-Apple music players, the BlackBerry Storm won't play music bought from the iTunes music store that is protected by FairPlay DRM (although iTunes Plus tracks are DRM-free format, and these will play just fine).
Downloading and installing applications
In addition to the features we've covered so far, the Storm comes with some fairly standard preinstalled applications include Tasks, Calculator, a Video Camera, a Password Keeper, a Clock and a Saved Messages folder. That's far from all there is, however.
You might be forgiven for thinking that Apple's App Store is a whole new way of tricking out your smartphone. In fact, PDAs, Palms and BlackBerry handsets have had their own, sizable ecosystem of software vendors and shareware creators for many moons. However, mindful of how well Apple's add-ons have gone down, RIM has centralised this function and made it prominent in the application list, with its own brash icon.
The Application Center is where you head if you want to add extras to your BlackBerry Storm. Unsurprisingly (given their popularity) these include Flickr, Facebook, YouTube, Yahoo Messenger, Windows Live Messenger and so on. To install one, you need simply to click its icon, accept the terms and conditions about it being at your own risk if you knowing install third-party applications, and you're all set.
Mind you, the range of applications currently available is a far cry from the breadth and depth of those on the Apple store. The Application Center only has a few apps approved by RIM and isn't open to general developers in the same way that Apples App Store is, it will be around six months before the Application Center starts to open up in the same way.
A final point about reliability
One final point we'd like to make is with regards to reliability. It is fair to say that over the last year Apple's hard-earned reputation for making reliable devices has diminished somewhat. Highly publicised troubles over MobileMe, the iPhone 3G reception and iPhone applications crashing (both third-party apps, which is understandable, and Apple's own apps, which is less forgivable) have taken their toll on our patience.
We only had one problem with the BlackBerry Storm, and that was when we thought it had crashed after installing over 1,000 new contacts and launching the voice tool. It turns out it just made it think for a while (two or three minutes).
It may be that because we've had 18 months to test the iPhone, and only a few days to test the BlackBerry Storm that direct comparisons regarding reliability are unfair, a more long-term test will bring any issues to light. Although it's equally fair to say that RIM didn't beat Microsoft in the enterprise market by creating unreliable products. RIM's earned its reputation for reliability in the business market, Apple has yet to get its stripes in this area.
Apple showed with Mac OS X 10.5 Leopard that it is capable of quickly and quietly fixing problems, a trick that Microsoft would do well to learn, and it is possible that the next iPhone software update (due any day now) will help the iPhone become a more stable platform. And behind the scenes fixes to MobileMe will help this service improve to a level that lives up to Apple's "enterprise for the rest of us" claim.
It was perhaps, therefore, just bad timing that the iPhone 3G we were testing against the BlackBerry Storm choose today of all days to lose all of its MobileMe contacts. This is the third time we've encountered this particular problem since MobileMe launched. It served as a reminder to us that despite being an amazing device to use, the iPhone has suffered from technical problems that may be unforgivable in an enterprise environment.
Macworld's buying advice
While the BlackBerry Storm is by no means the perfect smartphone, there are many aspects of it we admire. The clickable touchscreen works very well – we liked the fact you need to apply definite pressure to initiate a command or enter a character. It also helps distinguish this handset from the iPhone and the expanding pack of "iClone" touchscreen devices out there. The web browsing experience is vastly improved too; for the first time, you can confidently enter a web address and view it properly, as its designers intended, and can navigate its structure as you would if accessing it from a PC. The contact management and synchronisation tools are rock solid, as we've come to expect, and we can't fault the BlackBerry Storm's phone features either. In these two respects, it shows up the iPhone's shortcomings as a straight communication handset. Even so, we think the iPhone has the edge when it comes to touch-sensitive text entry functions. In the end, which device you choose will probably come down to whether you want a business smartphone with some compelling entertainment features and a strong Web browser, or a consumer device that serves up an amazing Web and email experience alongside iTunes content.
Mark Hattersley is editor in chief of Macworld UK. Rosemary Hattersley is deputy editor of PC Advisor, the UK edition of PC World.