At a Glance
Expert's Rating
Pros
Varied missions
Historically accurate
Large scale
Cons
Bad controls
Dated graphics
Terrible cutscenes
Bad AI
Our Verdict
Battlestations Midway is a World War II simulator that offers unbridled scale of the Pacific Theater. From Pearl Harbor to the dynamic battle at Midway, you can command ships, pilot aircraft, and take part in some of the defining moments of WWII.
In the game's American campaign, you take on the roles of a US pilot and a US naval officer as they rise through the ranks and grasp at glory in a difficult war. The mission types are varied and the weather randomly changes, ensuring that no mission is exactly the same no matter how many times you play it. While the game skimps on some details, it's cool to be able to deploy your sailors to put out fires on the ship, bail water, etc. The enemy battleships are well armored too, so you feel a real sense of accomplishment when you take one out with your flight of torpedo bombers.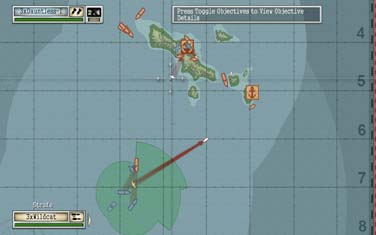 But while the ambition of the game is to be applauded, the game stumbles at making good on its promise to let you take control of every aspect of the theater for an unprecedented large-scale experience. Simulators that attempt to give you control over everything never quite get the formula right, and there are many reasons why. Battlestations Midways has the potential for terrific scale but you're basically limited to commanding a handful of units in any given mission.
Instead of doing or one two things well, Battlestations Midway does a lot of things inadequately. Instead of full flight controls, or an intuitive set of ship commands, or giving the sub captains a realistic experience, the developers of Battlestations Midway try to slap together universal controls for everything. The ship's controls are so frustrating that I almost never took control over a ship in combat, instead preferring to order around the ship in map mode or pilot a plane.
The enemy artificial intelligence is fairly easy to take down, but you wonder how you can win the war with the idiotic AI you are paired with. Your fellow pilots have the survival skills of lemmings, thus making winning missions extremely difficult at times. For certain missions they'll do all the work for you and other times they'll decide to become pacifists in the middle of an artillery barrage. The difficulty level of the missions isn't a steady slope to climb, but rather resembles an EKG line.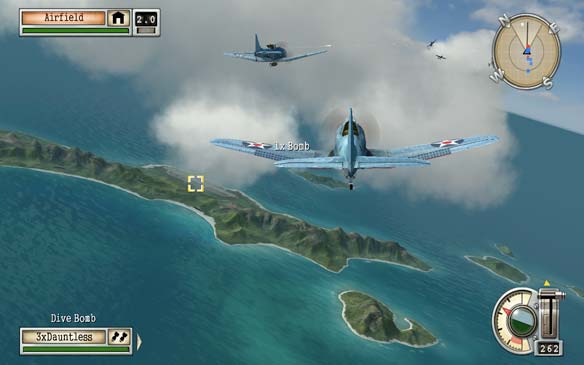 Sadly, the most frustrating aspect of the gameplay is the command system. It's frankly too much "everything" to command at points. While playing, you have to almost exclusively be in map mode in order to control your battle groups. You can order individual flights and ships while controlling them, but there is no way to lead the charge in a B-17 and tell your destroyers to cover your butt while you go in for a bombing run. While you can take control of any one ship or any one plane, this leads to the rest of your battle group going on autopilot and meander aimlessly into enemy fire. Frustratingly, you'll find your view of the final Midway battles to be in map mode with quick jumps to your carriers so you can launch fighters. One of the greatest joys of the game is witnessing your coordinated attacks succeed from the perspective of a dive bomber. But, you'll spend very little time in watching your attacks because you'll keep switching perspectives to map mode (to command your ships) and aircraft mode (so you can launch your planes).
The opening movies pretty much speak to the quality of this adaptation to Mac. While I ran it on a new MacBook 2.4 GHz and used the 9600GT graphics card at highest settings, I found the graphics to be remarkably dated. During dogfights, it was frustrating to track planes that were severely pixilated. The strange wax-like figures that grace your screen between missions are seemingly voiced by your college roommate and were possibly improvised on the spot they're so hackneyed. The protagonist looks like a weird Jimmy Stewart wax figure and you have to watch an oddly "humorous" take on the war through the cut scenes. Battlestations Midway suffers from some of worst voice acting and syncing this side of 1950s Tokyo.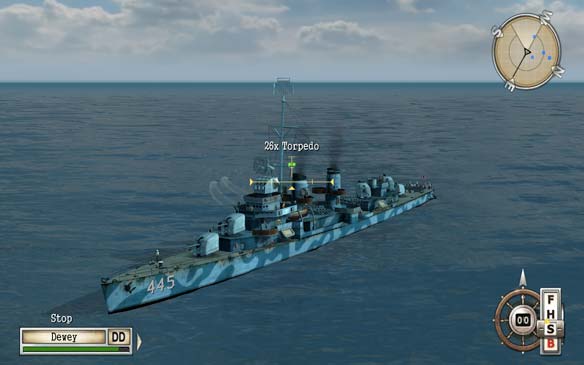 Macworld's buying advice
It's ambitious to allow players such a scope and level of control of a theater of war. Battlestations Midway makes good on its promise to let you take control of a variety of historically accurate vehicles. In the course of the US campaign, you'll take command of everything from a F4F Wildcat Fighter to a submarine. There are some nice details in the game; seeing famous warships brought to life and hearing John F. Kennedy's distinct Boston accent during a PT mission speak to the game's reverence for history. But the wonky controls never become intuitive, and commanding a battle group becomes more of a chore than a joy given the ridiculously dumb AI. The game offers you a playground for your militaristic dreams and then proceeds to tie your hands behind your back and toss sand in your eyes.
[Chris Holt is a Macworld assistant editor.]