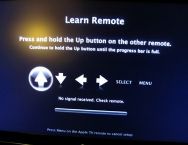 Fire up your Apple TV, kids, there be an update awaitin'! Apple released Apple TV Software Update 2.3 today, which includes four noteworthy features (discovered via this Knowledge Base article):
Stream music from your Apple TV, via AirTunes, to an Airport Express or another Apple TV on the same network.
Your Apple TV can now learn how to respond to third party remotes (read the extended entry to see a picture of the Remote Control setup I snapped with my digital camera).
Video playlists you create in iTunes will now show up on the Apple TV.
Music volume control is now supported in Music (though I'll admit I'm not entirely sure what this means).
As our friends at TUAW point out, this update will most likely break any existing Apple TV hacks, so if your Apple TV is hacked six ways to Sunday you might want to hold off on the update.
As promised, here is a crappy picture I snapped of the new 'Learn Remote' functionality included in the Apple TV 2.3 update:
As you can see you just point the third party remote at your Apple TV and hold down the buttons that you want to map to the various Apple TV functions (up, down, and so on). When the progress bar is complete you move onto the next button. Simple, huh?