Online photo processors and drugstore kiosks are fine choices for printing your personal photos, but if you want to take photo printing matters into your own hands, there's no beating owning your own inkjet printer.
Still, it takes some know-how to differentiate one inkjet model from another. We've got some tips on what to look for should you plan on purchasing a photo printer this holiday season. We've also selected three inkjets that you may find appealing.
Photo printer buying advice
Ink is expensive Once you buy a photo printer, that's not the last dime you'll ever spend on it. In some cases, replacing the printer's inks just once can cost more than the printer itself. Quality photo paper isn't cheap either, and it's difficult to know just how much you're going to spend per print on most of these units. So set your budget accordingly.
Most portable photo printers make these ongoing costs a little easier to measure by bundling paper and ink together in to 100-print kits.
Size matters Inkjet printers come in all shapes and sizes. The right one for you depends on how—and where—you want to use it.
Sizes range from large format models that can print poster-sized pics of your grandmother's 80th birthday party to small, portable models capable of printing glossy 4-by-6-inch photos while you're still at the party. Standard desktop inkjets can print directions to the party, as well as 8-by-10-inch photos when you get back home.
The more the merrier? Inkjets use different combinations of inks. General-purpose inkjets use anywhere from three colors (Cyan, Magenta and Yellow) to four (adding black). Three-color inkjets tend to be less expensive and you only have to replace the one cartridge; the tradeoff is that those three colors must be used to make the color black, and in some three-color inkjets, these "composite" blacks and grays can exhibit a blue or greenish hue.
Inkjets that specialize in just printing photos can use twice the number of inks described above as well as gloss optimizers to increase the quality of printed photographs. But there's a high price per print for these photo-specific inkjets, so using them to print out something more mundane like airline boarding passes or Web articles can be a costly proposition.
Our favorite inkjet printers
The PictureMate Charm PM 225 from Epson is a portable photo printer. Limited in size to 4-by-6 media, the PictureMate Charm produces great-looking photos in about a minute for as little as 25 cents a print. The printer has a few editing tools built-in, so you don't have to use a Mac. Read our full review. [$150 (Get best current price), Epson]
HP's Photosmart C6380 ( ) is an all-in-one device that has a scanner, copier, and an inkjet printer. The printer is designed with photos in mind, but can handle the occasional plain paper document, such as a letter or spreadsheet. When using HP paper, prints are rated for 60-plus years fade resistance. For all practical purposes, the C6380's photos look and feel like prints from a photo lab. Read our full review. [$200 (Get best current price); HP]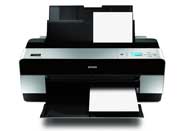 The Stylus Pro 3880 is designed for graphics professionals. A photo-specific, wide-format inkjet printer from Epson, the 3880 uses eight inks, including Vivid Light Magenta and Vivid Magenta, which give the printer a very wide color gamut. The 3880 is ideal for professionals who need both black-and-white and color prints. Read more about the Stylus Pro 3880. [$1295 (Get best current price); Epson]
[James Galbraith is Macworld Lab director. Rick LePage, Roman Loyola, and Derrick Story contributed to this guide.]
[Editor's note: This article was originally posted on November 28, 2008. It has been updated to reflect changes in the market and with current products.]
Note: When you purchase something after clicking links in our articles, we may earn a small commission. Read our affiliate link policy for more details.