At a Glance
Expert's Rating
Pros
Stylish
Great features, flash, and low-light performance
Cons
No wide-angle lens or manual controls
Small controls, LCD, and zoom range
Our Verdict
Quite possibly one of the more fashionable point-and-shoot cameras out right now, the sleek, solid-colored PowerShot SD780 IS (available in gold, red, black, and silver) isn't just a looker. It also performs very well, with great image quality, a powerful flash, nice high-ISO shots in low light, a great selection of scene modes, and excellent optical image stabilization.
This is a very slim-and-stowable camera, measuring just 0.7 inches thick and 3.4 inches wide; it's about the size and thickness of a half-deck of playing cards. A durable plastic body surrounds the metal lens casing, and the contoured edges of the camera add to its slick looks.
In our lab's jury evaluations, the 12-megapixel SD780 IS netted an overall image quality score of Very Good, earning some of the highest marks we've seen for a point-and-shoot this year for its lack of distortion, its color accuracy, and its image sharpness.
In hands-on informal tests, I was amazed at the color accuracy and lack of noise in low-light shots at high ISO levels. The manual ISO settings (ranging from ISO 80 to ISO 1600) are complemented by a special ISO 3200 scene mode. There is definitely some visible speckling at ISO 3200 and ISO 1600, but low-light images taken at these settings with the flash turned off are impressively bright, crisp, and colorful.
Battery life isn't terrible, but we've seen much better. In our lab's battery tests, the SD780 IS took 261 shots on a single charge of its lithium ion battery. That was enough to earn a battery life score of Good, but far short of the 300-plus shots now fairly common in today's pocket cameras.
Jury tests
| | |
| --- | --- |
| Image quality | Very Good |
| Color quality | Very Good |
| Flash quality | Very Good |
Scale = Superior, Very Good, Good, Fair, Poor
Other than that, this camera really has only a few drawbacks, and none of them hurt much. The 2.5-inch-diagonal LCD screen on the back is a bit small by today's standards, but it's bright and vibrant enough to see in practially every lighting condition (you also get an old-school optical viewfinder above the LCD, a nice touch). The zoom range is a bare-bones 3X optical, with a shrimpy wide-angle end (33mm to 100mm). Because it's such a slim, sleek, and pocket-friendly camera, the control buttons are fairly small and may prove difficult for the meaty-handed to use. And as usual, the plastic doors that cover the HDMI port, A/V out ports, and battery feel like they could tear off really easily.
Despite the slim frame, the SD780 IS is a bit more advanced than your basic point-and-shoot, but it's still definitely for casual shooters. You don't get many manual controls, other than ISO settings, white-balance settings, and exposure compensation values. However, the collection of shooting modes and scene selections in the camera (20 in all) make up for that quite a bit.
At first glance, you won't see that many scene modes; most of them are hidden from the main scene selection navigation and are accessible only by pressing the Display button once you've navigated all the way to the right of the scene menu. It's a minor irritation that could have been obviated just by letting you repeatedly press the right navigational button to scroll through all the available scene modes.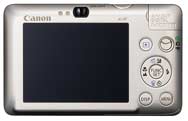 In addition to old standbys such as Portrait, Sunset, Fireworks, and Snow, some really creative scene options are in the mix. Two of the best are Canon's Color Accent and Color Swap modes. Color Accent lets you isolate a single color in an otherwise black-and-white shot, while Color Swap lets you change all instances of one color in your shot to another color. They're fun to use and work well, and are even accessible in the SD780 IS's movie mode (which shoots 720p HD movies at 30 frames per second; clips are saved as .mov files).
To complement its HD video chops, the SD780 IS also has another nice feature: an HDMI-out port for viewing images and videos on an HDTV (but no included HDMI cable). In addition to its 720p HD mode, the SD780 IS also shoots 640-by-480 and 320-by-240 standard-definition clips, both at 30fps. A minor disappointment is that you can't zoom in and out while filming.
Specifications
| | |
| --- | --- |
| Resolution (in megapixels) | 12.1 |
| Optical zoom/focal length (35mm equivalent) | 3x/33mm-100mm |
| Battery type | Rechargeable lithium ion |
| Media Slots | 1 (SD card) |
| Size (width x height x depth, in inches) | 3.4 x 2.2 x 0.7 |
| Weight (in ounces) | 4.06 |
Macworld's buying advice
Canon has taken the concept of a fashionable, easy-to-use point-and-shoot that also performs well and knocked it out of the park. The PowerShot SD780 IS is sure to turn heads and keep casual photograpers happy with its image quality and fun features, though you don't get much in the way of manual controls.
[Tim Moynihan is a senior editor for PC World.]