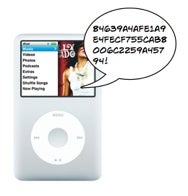 The worst thing about DRM? The things it makes people do. Take the iPodhash project, a group of coders dedicated to reverse-engineering Apple's database files on the iPod classic and iPod touch. Doing so allows for third-party utilities to access information on the iPod, which is particularly useful for those who want to use their iPods on Linux, since there's no version of iTunes available for that platform.
Unfortunately, Apple didn't take too kindly to a bunch of people picking apart its tech, and it's called up its crack legal team to remove the offending information, which it claims violates the DMCA's circumvention clauses. As the site administrator, Sam Odio, wrote:
A lawyer claiming to represent Apple, Inc has asked that we remove all content on this page (see email). We're currently investigating the issue, and determining what our rights are. We're not quite sure how the DMCA pertains to us, and where we fall within the law. We're talking to a lawyer about whether we're considered a "service provider" and what we're legally obligated to do if that is the case.
The lawyer's correspondence suggests that reverse-engineering the iPod database file violates Apple's FairPlay DRM, which could conceivaably mean that said information could be used to figure out away to remove the DRM on files purchased from the iTunes Store (not that such methods don't already exist).
Of course, you know how it goes: once the cat's out of the bag, it's sure to convince him to go back in.