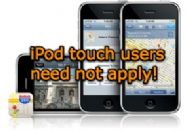 If you're an iPod touch user who eagerly downloaded the software update v2.2 today as soon as you heard about it, I imagine you must be feeling sorely disappointed right now. It turns out that although it shares all the rest of the features with the iPhone, the iPod touch was treated to none of the Google Maps updates by Apple.
So although you can now access the iTunes application's podcast section even over the cellular network and download podcasts, you can neither check out the Street View around 1 Infinite Loop nor get the walking directions or public transit information pertaining to it. In other words, the Maps app on the iPod touch remains exactly as it used to be before the v2.2 update.
For the life of me, I cannot figure out any plausible reason for this omission. I have a few of theories but both of them sound so lame to my own ears that I imagine there must be a better reason.
In my opinion, it may either be because the iPod touch lacks GPS or because Apple has a deal with Google that limits certain features from appearing on the iPod line-up or maybe because Apple wanted to keep the update free for iPod touch users and would've had to charge for it if they'd added those extra Google Maps features.
Like I said, these reasons sound implausible even to my own self. It's pure conjecture on my part. We have no way to know what the real reason is right now and your guess is good as ours. Do let us know your theories in the comments below and feel free to vent out as well because, trust me, these new Maps features are awesome and iPod touch users are definitely missing out on them.
[Via Gizmodo]