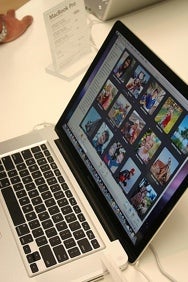 Despite the fact that they are called laptops, some people never use them on their lap, or even off their desk: They're desktop replacements. What's the point of a battery in a machine always connected to wall power? Well, it's a built-in UPS, but ignoring that, it has no function. It seems logical to take it out, rather than worry about weird behavior as the machine ages.
However, if you're a new MacBook user, you'll want to leave that lithium-ion block right where it is. As Electronista reports, if you take that battery out, you may actually be hurting the performance of that MacBook. Indeed, it seems bizarre. It makes sense to scale back performance while solely on a battery (for a longer lasting battery), but on the wall only? A support technote explains:
If the battery is removed from a MacBook or MacBook Pro, the computer will automatically reduce the processor speed. This prevents the computer from shutting down if it demands more power than the A/C adaptor alone can provide.
In order to get peak performance, leave that battery huddled in your MacBook. It seems counterintuitive, but that's just the way Apple made it. As an owner of a PowerBook that had a battery die, I'm not sure I'm a fan. At some point down the road, you'll have to shell out a couple hundred for a new battery even if your laptop is permanently tethered.