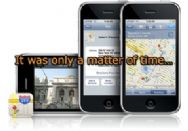 Apple may not have wanted you to be able to check out the streets and buildings from up close in Google Maps but there's not much they can do to stop the hackers from figuring out ways around the artificially imposed restraints. It didn't take long for someone to come up with a workaround that enables Street View and other new features that Apple withheld from iPod touch users in the software update 2.2.
As you might expect, it's a fairly complicated process which requires having jailbroken your device and the ability to modify system-level files on it remotely using the Terminal. If that sort of thing is right up your alley and you don't mind the potential voiding of warranty coverage, check out this post from iPod touch Fans Forum member 'timmyj9'.
Now that it's clear that the new features are already there on the device and have intentionally been disabled by Apple, I'm starting to believe that it might indeed have something to do with the Sarbanes-Oxley Act after all (which restricts Apple from adding new features to products after they've been sold unless the sales are being accounted for on a subscription basis).
I was a bit suspicious because Apple did add the new podcast download feature in the last update while omitting this one, but if they have it disabled on intent, I'm pretty sure they intend to enable it in a future (possibly paid) update. I do not, however, suspect that they are doing it to avoid feature parity between the iPhone and iPod touch.
That said, it still is weird that Apple can account for the iPhone and Apple TV on a subscription basis to work around the Sarbanes-Oxley limitation but not for the iPod touch. Is it because the former two are brand new platforms and need this added incentive to catch on, while the iPod lineup doesn't?
Let us know your thoughts in the comments below.
Disclaimer: MacUser provides the information here as is. We do not assume any liability should your iPod touch suffer any damage as a result of your trying the process mentioned above. We assume you already know that but we're just too darned scared of those lawyer-types to take any chances.
[Via Gizmodo]