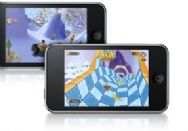 If you were disappointed by the lack of the shiny new Google Maps features on your recently purchased second generation iPod touch, here's a little bit of trivia that ought to cheer you up: Your iPod touch has a faster processor than even the high and mighty iPhone 3G!
According to a report by Thomas Fessler, CEO of Handheld Games Corp., the current iPod touch sports a processor with the clock speed of 532MHz, which is a significant upgrade from the 412MHz speed that the original iPod touch and all iPhones (including the iPhone 3G) run on.
Based on the varying performance of their game, TouchSports Tennis, on each of the four devices being powered by OS X Touch, in fact, it seems that there are other hardware based performance differences between them as well. Needless to say, the current iPod touch is fastest of the lot.
See, that put a nice big smile on your face, didn't it? No wonder Apple calls it "the funnest iPod ever"!
[Via Smoking Apples]