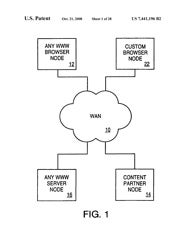 Please, stop the madness: The field of patent lawsuits has gotten out of control. Do it for the (patent-pending) children. The latest bizarre patent lawsuit issues from EMG Technology, LLC, who is alleging that Apple has infringed on U.S. Patent No. 7,441,196—yes, the 7,441,196.
Okay, I admit it: I wouldn't know 7,441,196 from 6,552,374, but a quick trip to U.S. Patent and Trademark Office—the best friend of bloggers everywhere—tells us that the patent, filed on March 13, 2006 and issued on October 21, 2008, covers "a method and apparatus of simplified navigation." Oh. Well, that clears up everything, doesn't it?
The issue at stake here seems to be that the patent describes a simplified way of navigating the Internet via television, handheld device, console, etc, including zooming in on specific sections of a page and converting HTML to XML for reformatting an existing site. Attorney Stanley Gibson of Jeffer, Mangels, Butler & Marmaro says:
"Web sites are just beginning to develop their mobile sister sites for fast and easy navigation," says Mr. Gibson. "For example, to access NBC on a computer the URL is NBC.com. For the mobile site on the iPhone, the URL would be m.NBC.com. The '196 patent covers the simplified interface of reformatted mobile content to provide optimum viewing and navigation with single touches on a small screen."
You have got to be kidding me. Are you suing NBC then, too? Is it just me, or does the approval process for the USPTO make Apple's App Store vetting process look sane?