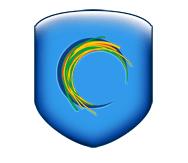 Now that the iPhone lets us get online wherever we are, the concern for data security becomes even more important. One way to secure your data connection is with an encrypted connection, such as a Virtual Private Network (VPN), but many outside of the corporate world don't have access to one. That's where AnchorFree's new HotspotShield for iPhone comes in.
AnchorFree has been offering free VPN accounts for laptop and desktop computer users, and they've now extended that access to iPhone users as well. Visiting the iPhone section of their site provides instructions for setting up VPN access on the phone, all for free. HotspotShield doesn't require any additional software; it just takes advantage of the iPhone's built-in support for VPN connections, which can be access under Settings: General: Network: VPN. Once activated, all traffic via the iPhone and remote servers is encrypted, regardless of whether you're on a cellular or Wi-Fi data connection.
Note: When you purchase something after clicking links in our articles, we may earn a small commission. Read our affiliate link policy for more details.