At a Glance
Expert's Rating
Pros
Easy to use
Incredibly customizable
Removes distractions while writing
Cons
Extremely specific in purpose
Expensive for what it does
"edit in WriteRoom" plug-in doesn't work in Leopard
Our Verdict
WriteRoom is what TV chef Alton Brown would call a "unitasker": It's a tool designed for only one function. But while Brown frowns on such tools in the kitchen, even the toughest critics would be hard pressed to find fault with WriteRoom. When it comes to helping you write without distractions, no program does better than this one-job wonder.
When you launch the program, your windows and desktop disappear, replaced with just a single blinking green cursor on a full screen of black. Programmer Jesse Grosjean designed WriteRoom to block out the temptations and distractions of other programs—your ever-changing desktop picture, the e-mail message count in the Dock, or iChat's bouncing icon. WriteRoom's minimalist interface also frees you from the nagging urge to fiddle with margins, fonts, and other settings, leaving you with nothing to do but write.
Start typing, and you'll see the screen begin to fill with bright green text. (Anyone old enough to remember word processing on an Apple IIc or IIe may feel a fond glow of nostalgia.) As your text piles up, WriteRoom uses typewriter-style scrolling to push the text upward, leaving the line you're writing nicely centered at the middle of the screen; your eyes never have to stray too far from one spot. You can use your mouse wheel, the arrow keys, or a slider bar at the right of the screen to go back and forth through your text as needed. Move your mouse to the bottom of the screen, and document information (word or character count, title, and so on) briefly pops up.
Nearly every aspect of the program, from the cursor and the text to the background color and the type of scrolling, is fully customizable via WriteRoom's thorough but user-friendly Preferences window. (When you move your otherwise hidden mouse pointer to the top of the screen, a standard Mac menu bar appears, from which you can access preferences and adjust other settings.) WriteRoom lets you change the font, magnify the text, expand or contract its width, and much more. If you can't bear to be completely separated from your beloved desktop, WriteRoom even lets you adjust the opacity of the background to let your windows peek through.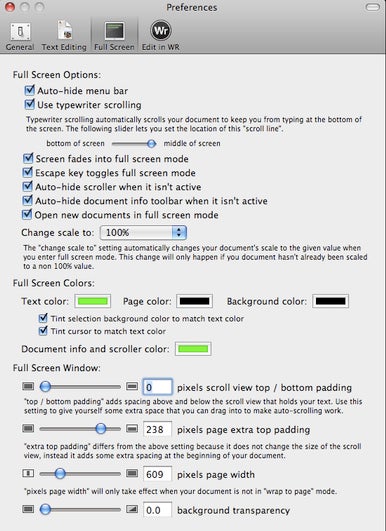 Appropriately enough for such an elegantly simple program, WriteRoom is fast and responsive. The program never crashed during my tests, and I never encountered any bugs within the program itself. While there are no built-in help files, there are links to useful online help pages. Any questions not answered there can likely be solved with a visit to the program's online discussion forums. Bugs that users mention in the forums seem to draw a quick response—and a prompt fix—from Grosjean himself.
The only significant glitch I ran into came when I tried to integrate WriteRoom with other apps. You can install a plug-in that lets you invoke WriteRoom from other programs—you can use WriteRoom to write messages in Mail, for example, or fill in Web forms in Safari. While that plug-in seems to work in Tiger, it doesn't really work in Leopard. Grosjean's currently testing a fix; a free test version, in the form of a separate application called QuickCursor, is available from Hog Bay Software's Web site.
My only other caveat regarding WriteRoom concerns its price. At $25, it's the cheapest of the major Mac writing programs. But it's also the most limited. Many of its rivals—including Literature and Latte's Scrivener ( ), Mariner Software's StoryMill ( ), and Bartas Technologies' CopyWrite ( )—have distraction-reducing modes of their own, as well as useful organizational features that WriteRoom lacks.
WriteRoom is not a general-purpose text editor, either. It's designed strictly for literary writers, with none of the handy color-coding and other programmer-friendly features found in technical text editors like BBEdit ( ). To Grosjean's credit, he straightforwardly acknowledges the program's limited use, and even suggests alternatives for those who need something else.
Macworld's buying advice
If you want a full-featured writing solution, you won't find it here. But if you just want to dive into your writing with the fewest possible distractions, WriteRoom is second to none. Sometimes, a unitasker—especially one as well-crafted as this—really is the best tool for the job.
Nathan Alderman is a freelance writer and editor in Alexandria, Va.