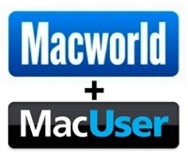 Don't adjust your monitor, it's not a rendering error: this is MacUser, coming to you live from the pages of Macworld.com. Come on in, put your feet up, have a drink, and welcome to our new home. Pretty nice, isn't it? Well, we're throwing a little blogwarming party and you're all invited.
If you never stopped by our old digs at MacUser.com, well, we won't hold it against you now that you're here. Let me tell you what you can expect from us: daily news, information, and opinion about all things Apple, provided by a dedicated team of bloggers with an unabashed love of the Mac, the iPod, the iPhone, and yes even Steve Jobs's pet hobby, the Apple TV. We try to take a little more light-hearted look at the news of the Apple world here at the MU and we've even got the weekly columns from The Macalope—half-man, half-Mac, half-antelope—to prove it.
You can expect to see some of our stories sprinkled in with the main Macworld headline feed, but if you want the full experience, you'll have to visit us here, which you can still reach by going to MacUser.com and you can always subscribe via RSS (if you were reading via feeds before, you'll want to update your reader to point to that link). And as always, if you'd like to tip us off about anything at all, from Mac news to the latest celebrity gossip, you can get us on our direct line at macuser [at] macuser [dot] com.
And for our loyal readers who've followed us for the last nearly three years (and don't forget we've got a birthday coming up just because we've moved), don't worry: just because we're playing in the majors now, we won't let it go to our head. You can still expect the same great content from MacUser that we've lovingly handcrafted for you since day one. We may look a little different on the outside—a nip here, a tuck there—but our heart's in the same place that it's always been: in desperate unrequited love with the man in the black turtleneck.