At a Glance
Expert's Rating
Pros
Extremely easy to use
Inexpensive
Able to export in various file formats
Graphically appealing
Unintimidating
Our Verdict
The use of mind mapping software is becoming increasingly common in corporate America, but who wants to fork out hundreds of dollars just to create these tangled bubble diagrams at home? Thankfully, you don't have to. At less than $20, Markus Müller's MindNode Pro 1.0.3, is a fun, colorful, and simple-to-use application with a learning curve so shallow even your boss could figure it out.
Part of the reason MindNode Pro is so easy to learn is that there isn't much to it. A 30-second tutorial, and you're off and running. Within 15 minutes, I felt like I knew the program cold.
When you launch MindNode Pro, you'll see a blank screen with a mind map starter bubble, called the root node. Planning a friend's birthday party? Re-label the root note Birthday Party. Drag or click on the plus sign next to the root node to quickly create a child node, and a bubble springs forth, linked with a colored line to its root-node parent. Re-label this node Guest List. Three more plus-sign clicks and you've created three more child nodes into which you can type the names of three invitees (your friend's not very popular).
Congratulations. You're mind-mapping.
Sound easy? It is. The default toolbar contains only five buttons: add node (+), delete node (-), Fonts, Colors, and the Inspector, which enables you to change line styles and background colors. The keyboard shortcuts are just as straightforward.
MindNode Pro scores style points for using thick lines, chunky bubbles, and a hip color palette—not to mention fluid animation each time you create a node. MindNode Pro also allows you to create multiple mind maps within a single document. Just add a new root node.
Unlike some mind-mapping apps, MindNode Pro gives you the flexibility to click and drag your nodes wherever you want them onscreen. You're the boss; your layout isn't at the mercy of the application. To get around your map, use the arrow keys or mouse to hop from node to node. The application also offers autosave capabilities at time intervals that you define. Sharing mind maps with a friend via iChat Theater is straightforward, and MindNode Pro supports Spotlight to boot.
If you've tried MindNode, MindNode Pro's freeware brother, you'll find that the Pro version adds a couple of very useful features that are well worth the additional cost; for instance, in the Pro version you can fold nodes, collapsing portions of your mind map that you don't want to look at. The Pro version also greatly improves print output and enables you to add hotlinks to your mind maps—an essential feature for research or planning.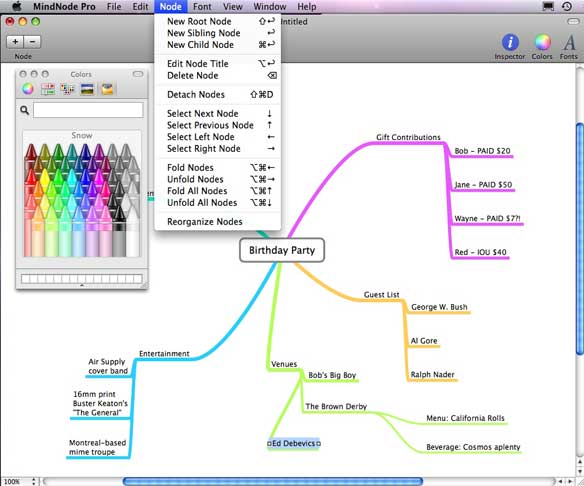 MindNode Pro is pretty minimalist; that's by design, but if you've ever used a mind-mapping app before, odds are there will be at least one key feature you will really miss. Thankfully, there's much-needed search functionality. This means no more endless scrolling across massive mind maps to find the one node that you really need. Still missing, however, is the ability to add images to your mind maps. Developer Markus Muller acknowledges that this is one of the most frequently requested features, and though he intends to support it in a future update, no timeline for its inclusion is available.
MindNode Pro does include several export options, including the ability to export your mind map in formats such as PDF, HTML, RTF, and FreeMind—the last being a popular, Java-based open-source mind-mapping application. So, if you decide down the road that you need additional features, you will always have the option to migrate your work to another application.
Macworld's buying advice
If you find linear note-taking limited and PowerPoint brainstorming painful, MindNode Pro 1.0.3 is a straightforward and pain-free point of entry into the world of mind mapping. That said, the program's simplicity and ease of use come at the cost of features and capabilities that power users and fast learners might quickly find themselves wishing they had.
[Tim Haddock is a freelance writer based in Vermont.]