If you're a heavy listener of podcasts, you've likely been frustrated by the way the iPhone (and iPod touch) have sorted podcasts: newest at the top. This order is fine if you tend to listen to each episode as soon as it's released, but if you fall behind—or if you simply prefer to listen to podcasts in bulk—newest-first makes it a hassle to listen in chronological order.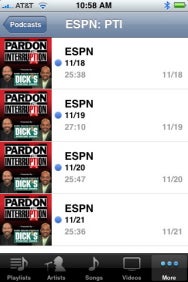 To do so, you must listen to the episode at the bottom of the list first; once that episode is over, playback stops because you've reached the end of the list. So you then have to manually scroll down to the next-oldest episode and play it. And so on. (This sorting method also means that whenever an episode other than the last in the list ends, an older episode automatically plays next.) The only workaround has been to manually create a playlist for each podcast, manually ordering episodes.
Thankfully, the iPhone 2.2 update fixes this annoyance. Once you've updated, podcasts are listed in chronological order—oldest at the top. Which means you can start playback at any episode, and after that episode is finished, the next-most-recent one plays automatically.
A minor change, but a welcome one for podcast fans.