At a Glance
Expert's Rating
Pros
Motion detector
Includes Wi-Fi
Downloads from RSS feeds, Facebook, Flickr, and more
Cons
No image adjustment controls
Software is Windows only
Limited slide-interval adjustments
Can't handle nested folders
Can handle only one Internet content stream at a time
Our Verdict
As one would expect from D-Link, a company known for its networking products, its DSM-210 10-inch digital picture frame is Wi-Fi enabled, and it also have 10/100 Ethernet support. The 800-by-480 pixel resolution frame comes with snap-on white or black borders; I preferred the black, which give the frame a modern look. The DSM-210 doesn't really resemble a traditional picture frame, however; it looks far more like a tech gadget. But sadly, some of this frame's limitations will be problematic for techies and non-techies alike.
The frame has memory card slots for SD, MMC, and Memory Stick, and it also has a USB port for plugging in a USB flash drive. When I loaded my test photos to the DSM-210, the images transferred very slowly to the frame's 1GB internal memory—the DSM-210 only allows you to copy pictures one by one. The only way to copy multiple images at a time is by using a software widget, which is for Windows only. (The DSM-210 can also read images off a Windows PC on a network, but not a Mac.)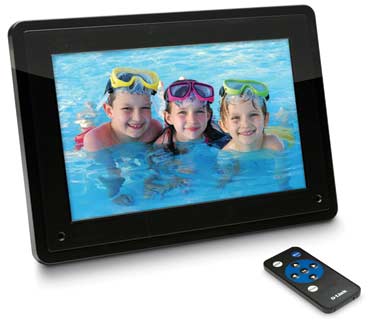 Once the images were loaded, the displayed pictures had a slightly desaturated look with a cool cast. The screen is bright and can be viewed from different angles without losing image visibility, but no brightness or contrast controls are available. The slide show ran smoothly, and you can choose from multiple transition effects, but the frame has limited slide-interval adjustments. Also, it cannot handle nested folders, or run images from multiple cards and internal memory into one show.
The DSM-210 allows you to stream photos (but unfortunately, not video) through FrameChannel, an RSS utility. Oddly, the default settings are limited to a meager five photos. It's as if D-Link were conspiring to limit the number of pages in your virtual photo album. In addition, as with the multimedia cards, the frame cannot stream content from more than one channel at a time (meaning only Picasa, or only Flickr, or other service). This may not be an issue for those who don't use more than one image-sharing network, but it is another unexpected limitation.
One pretty cool feature on this frame is motion detection: The device will power off when no one is around, thus conserving energy and the frame's lifespan. I also liked that you can receive pictures via e-mail on the frame.
Macworld's buying advice
The DSM-210 has some good features, but a lot of compromises are made within those features. If all you want to do is simply display pictures, you should be able to find a 10-inch frame at a more affordable price. The streaming and Internet access features can be found on other frames without the limitations found on the DSM-210.
[Kathleen Cullen is a freelance contributor.]