Apple isn't what you would call a Greenpeace darling, though few multinational corporations are. That being said, Apple has been trying to clean up its environmental act in recent years, and now the company is aggressively advertising the green merits of the MacBook lineup with a new television ad.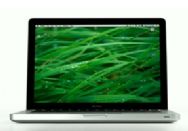 A new Apple Web site proudly proclaims that the new MacBooks are "the world's greenest family of notebooks." Citing the reduced packaging (I recently got a new MacBook Pro and the box was barely bigger than the machine it was protecting), LED screen, ENERGY STAR certification, and enhanced power management (who knew the processor throttles back between keystrokes?) as the centerpieces of the new, eco-friendly MacBook Apple is cashing on the green movement.
Sure, most of the components that make up the MacBook are recyclable but are any computers truly green? That being said, any little bit helps. Here's hoping we see even greener Macs in the future.