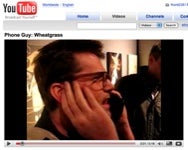 As a film snob, I've long maintained that buying a fullscreen version of a movie is little better than stacking all your money into neat little piles in order to build a fort and then using that fort to reenact the battle of the Alamo, ending with setting your money on fire.
Everybody knows widescreen is where it's at: that's how they film the movies, after all. Why would you want anything less than the full experience? And YouTube agrees: this morning, they announced that they would be switching their entire site over to widescreen format.
We're expanding the width of the page to 960 pixels to better reflect the quality of the videos you create and the screens that you use to watch them. This new, wider player is in a widescreen aspect ratio which we hope will provide you with a cleaner, more powerful viewing experience. And don't worry, your 4:3 aspect ratio videos will play just fine in this new player.
Sweet. Of course, it makes sense: By next year, pretty much all new content for broadcast television should be shot in widescreen aspect ratio. If YouTube wants to offer commercial content—and the want to—it needs to be able to show it the way it was shot. Meanwhile, traditional 4:3 ratio videos will show up with black bars on the side, as pictured.
Oh, and next time, instead of setting all that money on fire, maybe you could donate it to a good cause, like, er, me.