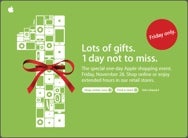 It disturbs me that both the biggest shopping day of the year and the day the stock market crashed in 1929 are both described as "black." I had always assumed that they earned those epithets because the skies turned the inky black of death and destruction, à la the ninth plague of the Old Testament. Then again, maybe it's just black with the hordes of customers thronging the streets in search of deep discounts…and vengeance.
Either way, there are usually some great deals to be had and Apple's not going to let the opportunity escape. The company sent out an e-mail this morning touting the Friday after Thanksgiving as its "biggest shopping event of the year" for both its online and brick-and-mortar stores. But Apple's not revealing exactly what kind of deals it'll be offering on its products, instead coyly saying on its teaser page only that "You'll find dozens of great iPod, iPhone, and Mac gift ideas." Apple also said it would be extending hours at its retail stores; though it didn't specify details in the email, you can view the extended hours for any store by visiting Apple's retail site, selecting a store, and clicking "See Extended Holiday Hours" for a full list. And, of course, the online store is open twenty-four hours a day, seven days a week.
That's great and all, but I think they're pretty much going to have to be giving things away for free if they want me to brave the crowds of the undead bargain-seekers. Look, if it was a good day they'd called it "Super Cuddly Friday" not Black Friday, right?