Today's digital cameras are chock full of features, making it easier than ever to take a great set of pictures. In fact, the most difficult task you'll have to do is to pick one camera from the seemingly endless selection available.
But don't fret: we've got a few tips on what to consider when looking for a camera. Use this checklist to find a point-and-shoot with the features that meet your particular needs. And if you're still stumped, we have a few suggestions to start you off.
Types of point-and-shoot cameras
There are a daunting number of point-and-shoot cameras to choose from. To help narrow down the options, start by deciding what type of camera you want: a basic point-and-shoot, a megazoom or pocket megazoom, a rugged camera, or a camera with advanced controls.
Basic Point-and-Shoot:
A basic point-and-shoot camera is a no-brainer pick for anyone who just wants a camera to have on hand at all times; most of them even shoot 1080p HD video now. In-camera automation is getting better and better, meaning that these cameras basically drive themselves; you don't get manual controls that help you fine-tune your photos, but these cameras normally have very good Auto modes and scene selections that choose the appropriate in-camera settings for your shot.
These cameras have small sensors, so don't fall into the trap of buying an inexpensive camera with a very high megapixel count. Packing more megapixels into a small sensor usually leads to image noise, especially when you're shooting at higher ISO settings.
Although they won't offer the same optical zoom reach as more expensive cameras, a good thing to look for in a basic point-and-shoot camera is wide-angle coverage (ideally around 28mm on the wide-angle end). That extra wide-angle coverage comes in very handy for group shots, arm's length self portraits, and landscape shots.
Strengths:Very easy to use; inexpensive; small enough to fit in a pant pocket; usually have a large number of scene modes that select the right in-camera settings for your shot.
Weaknesses: Usually don't have any manual controls; image quality is usually mediocre, especially in low light; inflated megapixel counts.
Advanced Point-and-Shoot (compact camera with manual controls):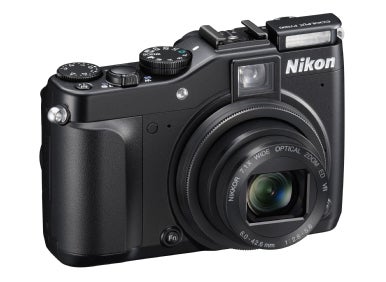 Not all point-and-shoot digital cameras can live up to the scrutiny of a DSLR-toting pro, but an advanced point-and-shoot often gets the pick as a pro shooter's secondary, more-portable camera. These cameras have manual controls for setting the aperture, shutter, and ISO, letting you fine-tune your shot more granularly than you can with a basic point-and-shoot.
Although you don't get the zoom range of a pocket megazoom, image quality is often better; you don't get the distortion you sometimes see with a high-zoom lens. These cameras also often have wider apertures, so that you can accomplish a greater depth of field and shoot at higher shutter speeds.
Strengths: Better image quality than most fixed-lens cameras; manual controls over shutter speed and aperture settings; good secondary cameras for DSLR owners; good learning tool for novice shooters.
Weaknesses: More expensive than a basic point-and-shoot; can be more complicated to use than a basic point-and-shoot; smaller optical zoom range.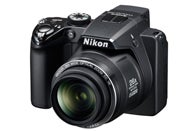 Megazoom (fixed-lens high-zoom camera): Megazooms don't give you the same lens-swapping versatility of a DSLR or compact interchangeable-lens camera, but they are the most-versatile fixed-lens cameras available. They're called "megazooms" because they offer a whopping 20x to 30x optical zoom lens, usually serving up impressive wide-angle shots and telephoto reach.
Most megazooms also offer DSLR-like manual controls for aperture and shutter, as well as good image stabilization to help steady full-zoom shots. Because of the versatility of their lenses, they're good cameras for landscape photography (they can capture both wide-angle vistas and faraway details), sports photography (you can sit in the crowd and still get tight shots of in-game action), and animal photography (because you really shouldn't get too close to that bear).
Although a megazoom camera is smaller than a DSLR, it's about the same size as some interchangeable-lens compact cameras, and it won't slip into a pocket or purse. You'll probably need a backpack or camera bag to tote it along with you.
Strengths: Very high optical zoom range; manual controls; normally have excellent image stabilization; better lenses than standard point-and-shoot cameras.
Weaknesses: Bulkier than a point-and-shoot camera; slightly expensive; not much smaller than an interchangeable-lens camera.
Pocket Megazoom (compact high-zoom camera):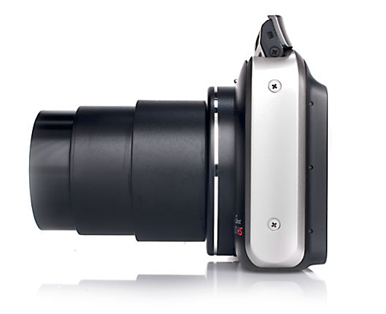 If you're attracted by the versatile fixed lens of a megazoom camera but want something a bit more portable, a pocket megazoom is your best option. These compact cameras offer optical zoom ranges from about 10x to 15x, and although they're definitely more compact than a full-size megazoom or DSLR, some of them aren't quite small enough to slip into a pocket. Carrying in a small purse or backpack should be easy, however.
Although many pocket megazoom cameras have manual controls such as aperture and shutter priority, not all of them do, so be sure to check the specs if you'd like those features. These cameras normally have very good optical image stabilization to bolster their high-zoom lenses.
Strengths: Very high optical zoom range for a pocketable camera; portable but versatile; normally have excellent image stabilization; many of them have manual controls.
Weaknesses: Some are a bit bulky; more expensive than basic point-and-shoot cameras; some lack manual controls.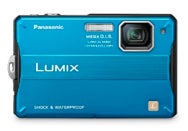 Rugged Point-and-Shoot: These are the ultimate cameras for extreme-sports enthusiasts, mountaineers, snorkelers, and the just-plain-clumsy. Quite a few waterproof, freezeproof, drop-proof, and dustproof cameras are available, and they're great for taking underwater shots of fish, lugging to the beach, or taking on a snowboarding trip.
Due to their unique looks and sometimes-barren feature sets, these cameras aren't the first choice for everyday on-the-go use. Image quality can be a mixed bag, as well: they're rugged, but they usually don't have the best optics or biggest sensors. But they're durable, and that might be a more important trait to some.
Strengths: Immune to drops, water, freezing, and sand.
Weaknesses: Usually have fewer features than a standard point-and-shoot camera; sometimes have sub-par image quality.
Point-and-shoot camera features
Once you've settled on the type of camera you want, you should have narrowed your search to a more manageable number of cameras. From this point on, you can base your decision on features and performance. If your camera is hard to navigate or doesn't have the controls you need, you probably won't use it. Here's a breakdown of what to look for when making your decision.
The megapixel myth: As already noted in our buying advice for digital SLRs, a high megapixel rating doesn't mean better image quality. In fact, because of the relatively small size of a point-and-shoot camera's image sensor, higher megapixel ratings can adversely affect low-light performance and result in increased image noise. However, having more pixels does give you more flexibility when making enlargements or cropping. If all you want are 4-by-6 photos, anything with a resolution over 6 megapixels will work fine.
Zoom in: Look at optical zoom and ignore digital zoom. Though digital zoom offers a longer zoom range, the image quality isn't as good as optical zoom. If you choose a camera with a long zoom lens (generally anything over 5x), make sure it also offers optical image stabilization to help minimize blurry photos from camera shake (more on that later).
If you're looking for a compact camera but are concerned that the typical 3x zoom (the equivalent of a 35mm–105mm lens) won't be sufficient, consider investing in a camera with 8 megapixels or more so you'll have room to crop later. If you do a lot of nature or sports photography, you may want to look for a camera with at least a 10x optical-zoom lens.
Viewfinders: An optical viewfinder can be handy when shooting in bright light, which can make it difficult to see an LCD. However, many compact cameras rely solely on the LCD as viewfinder and don't include a optical one. Generally, the bigger the LCD, the better. Some cameras—typically bulkier models—even offer an LCD that can tilt or swivel, making it easier to take pictures at awkward angles such as over your head or close to the ground.
Judging LCD quality: Inexpensive cameras in particular tend to suffer from poor LCDs that show streaks of light in bright sunshine. When comparing LCDs, the image should be sharp and saturated, even in bright lighting. As you pan the camera, make sure that the LCD's image is able to keep up with the motion; it shouldn't be jerky or delayed (a particularly common problem with compact cameras).
If you tend to rely on the LCD for framing shots and reviewing photos, look for a camera with at least a 3-inch screen (measured diagonally). But be aware that a camera's LCD doesn't provide an accurate view of color or exposure. All cameras crank up saturation and contrast to help ensure that the screens are visible in bright light. To assess exposure, serious photographers will want the option of displaying an image's histogram while in playback mode. A histogram will help you determine if an image is over- or underexposed, and if it has enough contrast.
You'll also want to consider what settings and parameters are displayed on the screen when shooting. Ideally you want a display of number of pictures remaining, battery life, shooting mode, current ISO setting, white balance setting, and exposure compensation setting.
Image stabilization/antishake: Some cameras offer antishake (also called image stabilization) as a shooting mode or as a feature that can be turned on and off. This is helpful when you're shooting photos in situations where it's difficult to get a sharp image, such as in low light. More advanced cameras, including SLRs, tend to employ one of two methods: optical image stabilization, in which an element in the lens adjusts to compensate for movement); or sensor movement, in which the camera's sensor moves in order to compensate for the shaking. Some point-and-shoot cameras offer a digital image stabilization which attempts to steady the shot by adjusting the camera's settings or correcting the image after it's been taken. Digital image stabilization is less effective than optical stabilization (see our guide to different forms of image stabilization). For those who want this antishake feature, it is worth spending more money for a camera with optical image stabilization.
Camera modes: Point-and-shoots offer shooting modes that automatically set the camera based on your situation. For example, a Portrait mode keeps a foreground subject in focus; a Sports mode is good for fast action shots. If you like to tinker with camera settings, look for a point-and-shoot with manual shooting modes.
Face recognition: One of the more useful modes on many cameras is facial recognition. In detecting people's faces, the camera aims to optimize both focus and exposure for the subjects. We've found the results to be very helpful, especially for candid shots in a group or party setting, and think it's worth spending a little extra to get this feature. Some new cameras even have smile recognition, which will automatically take a picture when someone in the frame smiles; this feature may help with baby pictures or when shooting an otherwise moody subject, but it's not an essential feature.
Wireless Internet: If you like to upload photos to an Internet photo-sharing site, consider a camera with built-in Wi-Fi. When connected to the Internet via a Wi-Fi hotspot, these cameras let you upload directly to the site.
Power play: Some cameras use AA batteries, while others come with a proprietary rechargeable battery. If you plan to be out and about with your camera, consider the battery type and figure out what you need to do to have an extra battery at hand. AA batteries are readily available (you can even use rechargeable ones). A proprietary rechargable battery can carry a charge longer than AA batteries, but are more expensive to replace or buy a spare.
File formats: Most point-and-shoots save pictures as JPEGs, a commonly used file format. A few also use raw files, a format that's ideal for users who want to do significant image editing on their pictures. Raw files are larger than JPEGs and will fill up a memory card faster.
Memory cards: If you have an existing storage card that you'd like to use with your new camera, make sure that it's compatible with your new purchase. Most cameras on the market today use SD (Secure Digital) or SDHC (Secure Digital High Capacity) format cards. SDHC (Secure Digital High Capacity) cards are more expensive, offering storage capacities up to 32GB, but they're not backward-compatible with standard SD slots. There's also a new format on the block: SDXC, which supports storage capacities up to a whopping 2TB; those are even more expensive, and they aren't compatible with all SD/SDHC card slots.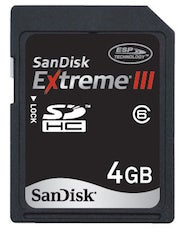 In addition to storage capacity, there's also the speed issue to consider. SD and SDHC cards have a "Decoding Class" rating listed, which refers to the data-writing rate for each card. The higher the Class number, the faster the write speed; if you're planning on shooting video or using a high-speed burst mode, look for a Class 4 or Class 6 card at the very least.
To complicate matters further, there are a couple of other formats out there. Some cameras support MicroSD or MicroSDHC cards, a smaller version of the SD card format that isn't compatible with full-size SD slots. Older Sony cameras take MemoryStick cards, and older Olympus cameras use the XD card format; both companies' new cameras now support SD/SDHC cards. If your camera accepts multiple memory cards, it's best to go with the standard SD/SDHC options, as you will more likely be able to use that across various cameras, and future camera purchases.
Software bundles: Almost all point-and-shoot cameras work with Apple's iPhoto or Image Capture software for importing pictures from the camera. You can also access the memory card using a card reader, and use the card like you would any other storage device.
All cameras come with software, but the included Mac software is often outdated. You're better off using iPhoto, Preview, or ImageCapture to manage your pictures and to make minor adjustments.
Video: Many point-and-shoots are able to shoot high definition (HD) video, either at 1280-by-720 or at 1920-by-1080. Most sub-$100 point-and-shoots let you record videos at 640-by-480 and/or 320-by-240 resolutions only. The video quality often isn't as good as a dedicated camcorder, but is easy to use in a pinch. Dirt-cheap point-and-shoot models don't usually offer this feature.
Often, you can download the recorded videos to iPhoto, and then use them in iMovie for editing. Some cameras may require a QuickTime software plug-in before you can watch the video.
Recommendations
The camera you ultimately decide to go with depends greatly on your budget and which features are most important to you. Here are a few recommendations to get you started.
Basic: Panasonic Lumix DMC-ZR3, $280; Sony Cyber-shot DSC-WX5, $330, Sony Cyber-shot DSC-TX9, $400 (See a list of the current top-rated point-and-shoot cameras)
Advanced: Canon PowerShot S95, $400; Panasonic Lumix DMC-LX5, $500; Nikon Coolpix P7000, $500; Canon PowerShot G12, $500; Olympus XZ-1, $500 (See a list of the current top-rated advanced compact cameras)
Pocket megazoom: Sony Cyber-shot DSC-HX5V, $350; Nikon Coolpix S9100, $330; Fujifilm FinePix F550EXR, $350; Canon PowerShot SX230 IS, $350; Samsung HZ35W, $350 (See a list of the current top-rated pocket megazoom cameras)
Rugged: Lumix DMC-TS10, $250; Casio EX-G1, $300
If you have your own recommendations, leave them in the comments!
[Editor's note: This is an updated version of a previous article to reflect changes in the camera market and include our latest recommendations.]
Fujifilm FinePix F550EXR Compact Camera
Samsung HZ35W Compact Camera
Panasonic Lumix DMC-ZR1 Compact Camera
Sony Cyber-shot DSC-HX5V Compact Camera