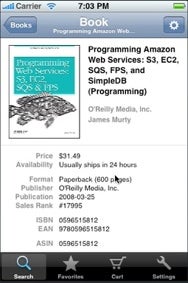 Earlier this year there was a lot of hubbub over apps getting rejected from Apple's App Store, and while Apple's rules over what will and won't be admitted to the store haven't necessarily gotten any clearer, even with the dropping of the iPhone NDA, the news on the rejection front seems to have quieted down a bit since then.
Which is why it was a surprise to see the rejection of Mazo, a native Amazon client for the iPhone. What's even more surprising is that the app wasn't rejected by Apple—it didn't even get that far. Instead, it was Amazon that seems to have taken umbrage at the program. The app would have allowed users to browse and search the online shopping site via a native interface, viewing full-size pictures of items and customer reviews, as well as e-mailing items to friends and building a shopping cart that could be used to purchase items from Amazon's site.
According to Empty Factory, the developers of Mazo, Amazon requires written consent to use their API on mobile platforms, and they declined to provide that consent for Mazo.
Mazo was rejected by Amazon. They didn't even took a look at it. It's a shame but it's their right. The application goes in the drawer until Amazon realizes their mobile web site is crappy and allows the API to be used in mobile platforms.
Empty Factory already sells a pair of applications on the App Store: Areas, a $3 database of area codes and country codes for phone numbers, and Unity, a $1 currency and unit converter. Mazo would have been distributed for free.
A shame! I agree that Amazon's mobile Web site leaves something to be desired, and it seems like an native client for the iPhone could offer the online shopping site some great opportunities. Here's to the hope that Amazon takes another, more thorough, look at the application.