Every modern English dictionary stands in the shadow of the Holy Trinity of Lexicons: The Oxford English Dictionary, Merriam-Webster, and American Heritage. With millions of words, definitions, literary references, origins and illustrations, these dictionaries are monuments to centuries of language and learning. All three present a depth of scholarship and attention to editorial detail that the upstarts simply cannot match.
All three also are as big as cinderblocks and nearly as cumbersome. The Concise Oxford English Dictionary, which is a one-volume abridgment of the 20-volume OED, is 1,728-pages and weighs just under 4 pounds. Webster's Third New International Dictionary is thicker than a major metropolitan phone book, weighs a little more than 12 pounds, and includes 10 million definitions, etymologies and usage examples for some 472,000 entries. The American Heritage Dictionary weighs just over 7 pounds with 300,000 entries.
And all three are applications for the iPhone and iPod touch. How great is it to carry 20 pounds of dictionaries on a handheld device weighing less than 5 ounces?
Read more…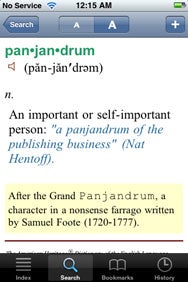 Word mavens argue over the merits of each work; I take an ecumenical view and have editions of all three close by. But as apps go, only Enfour's American Heritage Dictionary stands out for its graphic appeal and functionality. Although I was pleased to have so much lexical firepower in such a compact form, I was annoyed at how poorly the other dictionaries present on the platform.
Put another way: If WordBook can offer a slick, functional, attractive, high-quality app for $8, it beggars belief that a well-branded, well-pedigreed Oxford or Webster's dictionary wouldn't offer a better experience with superior content costing upwards of $60.
The American Heritage app apparently lacks the color illustrations of its print counterpart, but it is still a good-looking program. (I say "apparently" because the developer's App Store page boasts "zoomable graphics," and the app's size would suggest they exist somewhere, but I only found a few maps.) You can adjust the display type size. The app has an A-Z browser. The Oxford and Webster's apps inexplicably and inexcusably do not. Thousands of entries in the American Heritage app helpfully include hyperlinked cross-references. And the app's straightforward search function yields partial results and supports wildcard searches.
The developers of American Heritage Dictionary had the wisdom to include all the printed dictionary's front matter: the introduction, notes on usage and changes in the language, and all the rest of it. Neither of the Concise Oxford English Dictionaries nor the Webster's app includes the supplemental material.
Downsides: The app sometimes fails to display a definition, instead giving you a blank white screen. In those instances, you need to tap the search button at the top left of the screen and tap then the word a second time. The entry generally then appears. It's an annoying bug, but I would note that the app has never once crashed on me.
Also the American Heritage Dictionary – 4th edition app is a monster at 309MB. As far as I can tell, it's the addition of sound files with proper pronunciation. This is a great feature that only Paragon Technologie's version of the Concise Oxford English Dictionary replicates. But it isn't indispensable. And it's worth noting that even with the sound files, the Concise Oxford app consumes roughly 10 percent the memory of the American Heritage app. The developers should consider making the sound files optional.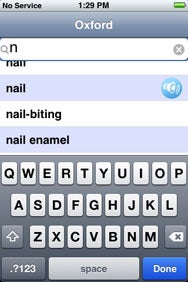 From the American Heritage Dictionary, I turned to the Concise Oxford English Dictionary. Or, rather, dictionaries. Once again, the App Store creates some confusion with the choice of two apps called the Concise Oxford English Dictionary from two different developers. At first, the difference appears to be superficial. Paragon Technologie's version is called The Concise Oxford English Dictionary and Mobile Systems' version is Concise Oxford English Dictionary 11th Edition. Although it isn't clear from Paragon's App Store's page, its version is also the Concise's 11th edition. So you're getting the same dictionary.
The difference comes down to interface—bland and blander—and a couple of features. Mobile's version has a "word of the day" and "random word" function; Paragon's does not. There is also a difference in the apps' sizes: Paragon's app is 34.4MB versus Mobile's 9.7MB version. Both apps are the same price, $25.
Neither interface is very good, compared with the lively and appealing American Heritage app. The screens are boring and colorless. You cannot adjust the display type size, or browse easily. Paragon's version includes 20,000 sound entries; Mobile's does not. That explains the size difference. Hearing the pronunciations can be helpful, although British and American pronunciations do sometimes differ. Given the choice, I'd go with the version with audio pronunciations on the theory that you get value added for the same price.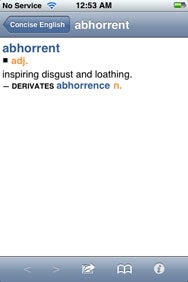 But what a disappointment, either way. I wanted to like both versions of the Concise OED. I have the two-volume Shorter Oxford English Dictionary in my office. I refer to it all the time. I'm saving up my pennies and looking for space for the 20-volume edition that most every professional writer covets. Oxford University Press offers an online version of the unabridged OED for $30 a month or an individual annual subscription price of $295. I might pay $200 for an iPhone version of the OED, even if I had to sell a few additional pints of blood to pay for it. But not if it comes with the same drab, second-rate interface of these two apps.
Finally, I looked at Webster's Third New International Dictionary, Unabridged, which, at $60, is an incredibly expensive application. But understand what $60 gets you: 12 pounds of content distilled into a 4.7 ounce package—263,000 entries, 700,000 definitions, 143,000 etymologies, 100,000 quotations, and an expansive thesaurus. The print version retails for $120, or around $80 on Amazon. So $60 is a decent deal, if you don't care about presentation.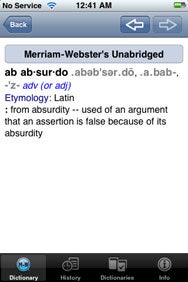 The developer—Paragon Technologie, again—boasts fast access and low memory consumption, which is certainly true: This app is about as bare-bones as they come. The app handles partial search terms, but not wildcards. You can use the dictionary without a Wi-Fi connection, which should go without saying given the price. Many of the entries include hyperlinked cross-references, as well. And, as with all of the other dictionary apps on the market, Webster's lets you bookmark entries and keeps track of the last 15 words you searched.
Exploring these four applications, following my investigation of five upstart dictionary apps, was quite the letdown. It's impossible to flip open Webster's unabridged or the Concise Oxford and not discover some interesting or obscure word. With the exception of the American Heritage Dictionary app, these developers managed to underscore the cliché that dictionaries are boring. Could it be that the printed page is not as dispensable as some would like to believe?
The applications are compatible with any iPhone or iPod touch running the iPhone 2.x software update.
[Ben Boychuk is a freelance writer, editor and columnist in Rialto, Calif.]