Other World Computing (OWC) on Tuesday announced new "Mercury" internal "Superdrive" upgrades for older, pre-Unibody MacBook and MacBook Pro (15-inch) models. The new drives are priced starting at $159.99.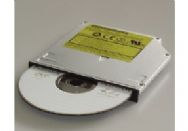 The new OWC Mercury SuperDrive Internal Upgrade replaces the factory-installed optical drive with one that can burn DVDs at up to 8x AND CDS AT UP TO 24X. The drive can also burn DVD-DL discs at 2x and DVD-RAM discs at 3x.
The $159.99 kit includes just the internal drive; for $174.99, you can order a kit that includes the drive with EMC Retrospect backup software, NTI DragonBurn CD/DVD authoring software, and 10 pieces of 8x DVD-R media included.