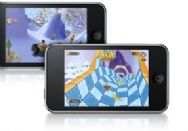 Apple would like for all of us to think about the iPhone and iPod touch (and all iPod models, really) as hermetically sealed black boxes powered by microscopic elves who turn microscopic levers as quick as they can in order to generate that special Apple Magic.
Leave it to geeks to break the black box and scare away the elves. After numerous reports that the second-generation iPod touch is faster than the iPhone 3G surfaced, Iconfactory developer Craig Hockenberry suggested that 2G touch users could use his code to figure out what speed the device was running at.
John Gruber at Daring Fireball reports that his readers were up to the challenge, and the result is that all the sweet, sweet black magic has drained out of that black box. All we're left with is specs:
The iPhone, iPhone 3G, and original iPod Touch all report a 400 MHz CPU and 100 MHz bus. The new iPod Touch reports a 532 MHz CPU and 133 MHz bus. Physical memory remains the same across all hardware, at about 117 MB (which Hockenberry interprets, I think correctly, as meaning 128 MB of RAM with 11 MB being used for video).
So that iPod touch you're getting in your Christmas stocking? More than half a gigahertz in that little package. No wonder it's the funnest.