Apple early adopters rejoice! Apple has just sent out the first wave of shipping confirmation emails for the new 24-inch Apple LED Cinema Display (I know this because my inbox just received one such e-mail). You'll recall that the LED Cinema Display is designed to complement the new MacBook/MacBook Pro line with a Mini DisplayPort connector, integrated MagSafe, 3 powered USB 2.0 ports, iSight, and built-in speakers.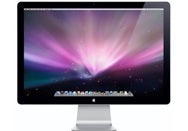 Apple unveiled the display in October at the same event where it overhauled its entire laptop line.
Some have called this $899 monitor a MacBook dock, and it certainly seems to fit that bill quite nicely especially when you consider that MacBooks are the only computers on the planet at the moment that can even make use of one. Still, even though it supports a small subset of Macs (at the moment) this monitor is a great deal for a LED backlight monitor which makes it even more attractive to this MacBook Pro toting blogger.