Wave Blazer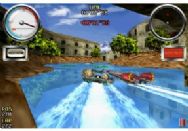 Polarbit, developers of Crash Bandicoot Nitro Kart and Raging Thunder, have announced the release of Wave Blazer, a speedboat racing game. Three single player modes and an online multiplayer versus-mode round out the game.
Subway Shuffle
Through December 2nd, you can pick up Aubrey's Puzzles Subway Shuffle for 99 cents, rather than $2.99. It's a puzzle game developed by an MIT computer scientist in which you much reach your subway destination while avoiding other subway cars.
Boomer's Sky Fishing
Binary Salad Games has released Boomer's Sky Fishing, in which you must help Boomer the Cat throw sticks of TNT at unsuspecting fish swimming by. Each fish is worth a different multiplier; your score is based on the multiplier of the fish closest to the explosion. It costs $1.99.
Quizmas
Quizmas is a free trivia game from Sleepydog that tests "your knowledge on all things Christmassy."
iBasketball
SGN, makers of iGolf, iBaseball and iBowl, have released iBasketball, their latest Wii-style sports game for the iPhone and iPod touch. You shoot baskets in a game of around the world making a shot motion using your phone. Just don't throw it, for real.
Tetratile
Tetratile is an action puzzle game in which you must line up four times in a row, column or diagonally. Pieces are inserted from the right or bottom, moving a whole column or row, rather than dropping in from the top. The game has three difficulty levels and a two-player mode.
Motochaser and other Freeverse games updated
Freeverse Software has updated Moto Chaser, its motorcycle racing game, by adding "Arcade" steering. A new texture loading system has been added to improve performance, bug fixes and tweaks have been made to the UI. The game also gets "holiday cheer" with special holiday outfits for the month of December — a similar change has been made to Flick Bowling and Burning Monkey Casino, also from Freeverse.
Stress Toy
eoFun has released Stress Toy, an interactive app that features a grid of 5 x 7 blocks that can be spun using a finger "flick" gesture. You can make a doodle or solve a picture puzzle. It's free.