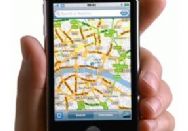 How fast is "really fast"? Well, according the United Kingdom's Advertising Standards Agency, it's not nearly fast enough. At question is a commercial for the iPhone 3G that aired in Great Britain claiming that the new model was "really fast" and showing the phone loading web pages and Google Maps in split seconds.
Sadly, a number of consumers who went out and bought the phone didn't entirely agree with Apple's assessment, and they made their displeasure known to the advertising watchdog organization. The ASA upheld seventeen of those complaints and said that the spot can't be shown again in its present form. Apple UK, meanwhile, argued that the speed claims were "relative not absolute" and that they had noted in the ad that "Network performance will vary by location."
This isn't the first time Apple's run afoul of the ASA. Last August, the agency instructed them to drop a different iPhone ad which said that the iPhone brought users "all the parts of the Internet." Many users complained that since the iPhone didn't support Adobe's Flash, that claim was invalid. And back in 2004, the ASA also ruled against an Apple ad that billed the the then-brand-new PowerMac G5 as the "world's fastest personal computer."
Frankly, I'm of two minds about this whole "truth in advertising" business. On the one hand, I think companies should be held more accountable for claims that they make in their ads—my shampoo, for example, hasn't made me any more successful in my professional or personal life. On the other hand, haven't we all learned by now that advertisements tell selective truths at best? I mean, this isn't exactly Don Draper-level spinning any more; for better or worse, it's the culture that we live in.