Griffin Technology on Wednesday announced the release of its Component Video Cable and Composite Video cable for iPod. The cables are designed to connect an iPod to a home entertainment system. Each costs $49.99.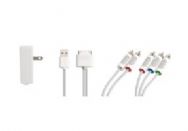 Both cables feature 30-pin connectors on one end that attach to the iPod's 30-pin Dock Connector. The Composite Video Cable terminates in three RCA plugs — two stereo audio connectors and one video connector, for attaching to an analog video source. The Component Video Cable also has two RCA audio stereo plugs, and three RCA video connectors, color-coded for connecting to a component video source.
The cables feature copper cores, which Griffin claims reduces line noise and interference. They also sport molded-in strain relief, and USB connectors for use with the included PowerBlock AC adapter, which lets the iPod charge its batteries when connected. Each cable measures six feet.
The new video cables are compatible with 2G iPod touch, iPod touch, iPod classic, iPod nano 3G and 4G.