A few months ago, in a Moby Dick-length round-up of sports score-checking apps for the iPhone and iPod touch, I included an NFL-centric program from Plusmo called Pro Football Live. As the rating would suggest, Pro Football Live clearly wasn't ready for prime time at the time of my review. But two months and several updates later, things have changed for Pro Football Live—largely for the better. With the pro football season entering the home stretch, it's time to take another look at this app.
Read more…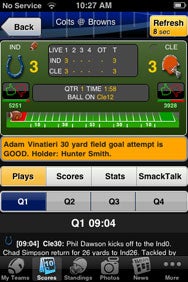 Let's start with a brief refresher: Pro Football Live lets you track the action of NFL games by giving you the score, the time remaining, and a running play-by-play account of the action on the field. You can designate teams as your favorites, so scores of their games appear prominently in Pro Football Live. And there's a chat feature dubbed SmackTalk, where you can interact with other Pro Football Live users.
The version I reviewed back in September had myriad problems that could probably be best summed up as trying to cram too much information into the app. Earlier versions of Pro Football Live tried to reload updated game information so often, it was difficult to get a good look at the data you were trying to find. Data like win-loss records was displayed a confusing manner and cluttered with useless information like preseason results. It was a mess.
Things have been improved substantially in subsequent releases, the latest of which is version .99. Now when Pro Football Live updates game data, you aren't forcibly redirected to the top of the screen—you remain where you are in the play-by-play account or on the scoring plays page. Win-loss records are now displayed sensibly; you now longer have to stare at the San Diego Chargers' schedule for a good long while to realize that the November 16 game in Pittsburgh was a loss for the Bolts and a particularly gruesome one at that. Most important, the changes and improvements to Pro Football Live since our first review make it easier for football fans to glance at game and score data and to use the app to follow the play-by-play action if they so choose. A stats tab for each individual game also lets you quickly check on how your fantasy football players are doing.
Some flaws remain with Pro Football Live, some of which are, admittedly, subjective. I find the main game screen a little too cluttered—it features logos for both teams, an interactive thumbs up/thumbs down feature for cheering or booing each team, a football field that's supposed to depict what yard line the ball is on, a line score, a description of the last play, and a ball logo to show who's got possession of the football. That's an awful lot of eye candy to contend with if all you want to know is the score and maybe the down and distance.
When I first tested Pro Football Live, its chat feature—now renamed SmackTalk—wasn't working properly. It is now, though I wouldn't necessarily call that a positive. Pro Football Live's SmackTalk feature lets you type a quick message about the game and post it instantly. Readers with a grim view of human nature will quickly realize this unfiltered approach to commenting means that anyone can post anything, no matter how vulgar. And indeed, that's exactly what you'll find in the SmackTalk tab. On Pro Football Live's App Store page, Plusmo says that SmackTalk creates "a 'virtual stadium' experience"—if you've ever had to sit in the same section as a drunken, profanity-spewing fan, you'll know that's an all too apt description. I avoid the SmackTalk tab entirely; I wonder why it even occupies space within the app.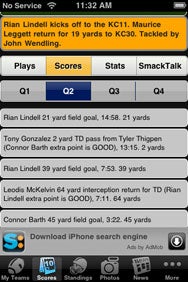 Pro Football Live still has some problems with data presentation, most significantly with how it reports scoring plays. Instead of showing how teams scored on one seamless screen, the Scores tab within a game requires you to tap on each individual quarter to find out who scored and how. That adds needless tapping and makes it harder to follow the flow of the game. More problematically, the app doesn't clearly indicate which team scored when. In the screenshot to the right from the Buffalo-Kansas City game a few weeks back, you're expected to know that Rian Lindell and Leodis McKelvin did their scoring for Buffalo while Tony Gonzalez and Connor Barth racked up their points for the Chiefs. Other scoreboard apps clearly denote which team has scored—it's rather ridiculous that Pro Football Live does not.
A free download, Pro Football Live features an ad at the bottom of its screen. If you object to ads in your apps, you can pay $5 for the Pro Football Live Plus version. Personally, I don't find the ads that obtrusive—certainly not $5 worth of bothersome.
NFL fanatics will probably appreciate a dedicated app like Pro Football Live that focuses exclusively on their favorite sport. I prefer a good multitasker like Sportacular or the ever-improving SportsTap, both of which offer scores from multiple sports in a cleaner, easier-to-navigate interface than what Plusmo has created. Still, Pro Football Live has gotten better as the season progressed; if you gave it a try before and were put off by its flaws, it's definitely worth a second look.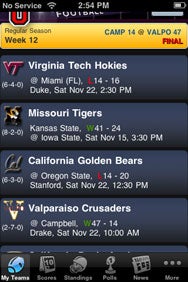 In addition to the NFL, Plusmo has also tried its hand at tracking the college game with College Football Live, with less successful results. The college app offers many of the same features as Plusmo's pro offering—live scores, game information, and the regrettable SmackTalk tab. The main difference is that College Football Live doesn't provide individual stats, which is consistent with how other scoreboards apps treat college sports. Also, the paid version of College Football Live costs $3, though I would opt for the free, ad-supported version.
Because there are many more teams in college football—the bowl and championship subdivisions of Division I, plus Division II and DIvision III teams—than in the pro game, College Football Live's My Teams feature really comes in handy. You can select your favorites as well as other teams of interest, and College Football Live will display their scores and status on an easy-to-read My Teams page. It saves you the trouble of having to sort through dozens of scores each Saturday.
Unfortunately, College Football Live is still a little buggy. The recent 0.98 update caused the app to crash any time I tried launching it on my iPhone. Ultimately, I had to trash the app, then reinstall it, losing all the saved My Teams selections in the process.
College Football Live also has the same problems with depicting scoring plays as Pro Football Live—it won't list which teams scored on which plays. Then, there are some data display quirks particular to this app. For example, College Football Live has a Standings button that lets you glance at the standings for each collegiate conference. However, standings are listed alphabetically—fans of the Pacific 10 will be fascinated to learn that the 6-5 Arizona Wildcats currently top the conference in College Football Live's listings, while 10-1 USC finds itself listed between UCLA and Washington at the bottom of the standings. Even worse, the Standings page only lists overall records and not conference win-loss data; the latter is critical in college football for determining who goes to which bowl, and its absence in College Football Live is a glaring omission.
Only a week remains in the 2008 college football season, so it's probably too late to fix these quirks. Here's hoping that College Football Live follows the lead of Plusmo's Pro Football app and works out its issues in time for the 2009 season.
Both apps are compatible with any iPhone or iPod touch running the iPhone 2.x software update.
[Macworld.com executive editor Philip Michaels does not root for a professional football team—he's a Chargers fan.]