The iPhone not only has the ability to play music, but thanks to the work of some enterprising developers, it can also make music. One of today's most interesting iPhone music making applications is Smule's $1 Ocarina.
Somewhat like the physical instrument of the same name, Ocarina provides four virtual "holes" on the iPhone's screen. To play the instrument you gently blow into the iPhone's microphone port while covering and uncovering those holes to change the instrument's pitch. (The requirement to blow into this port explains why this is an iPhone-only application. iPod touch owners need not apply.) The resulting sound is a cross between an electronic pennywhistle and recorder. You can add vibrato to the sound by tilting the iPhone down. You can alter the volume of Ocarina by blowing more or less gently.
Read more…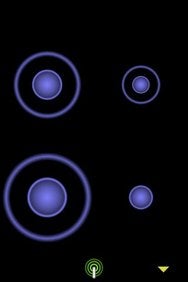 Ocarina can play in the seven traditional Western scales—Ionian, Dorian, Phrygian, Lydian, Mixolydian, Aolian, and Locrian—and a special eighth scale, Zeldarian. You can choose the root note for each scale starting with C on through two octaves of the chromatic scale.
Given that you're playing your phone, Ocarina is remarkably responsive, though it can make mistakes—particularly if you have one of the many popular polymer protection screens laid over your iPhone's display or if the display is overly smudged. With a clean screen, Ocarina will nearly always detect your fingers presses and lifts.
Ocarina is a lot of fun to play once you get the hang of the fingerings—all of which you can find at Smule's Ocarina site—and the interface is beautiful. The icing on this musical cake is the sharing element. Just tap the Globe icon that appears at the bottom of the screen and you can listen to recordings of other Ocarina players from around the world.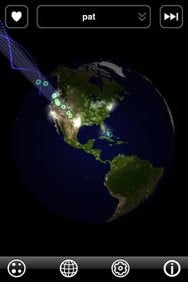 The location of players is displayed on a globe and the sounds they've made are played on your iPhone. Within this globe view you can choose to listen to players from all over the world, within a particular region (you can spin the globe with your finger to display a region—Australia, for example), top melodies, those you've designated as favorites by tapping a Heart icon when listening to a player, and any melodies of yours that were recorded.
As people are still stumbling around Ocarina and players have no choice about which of their noodlings gets recorded and sent to the rest of the world (though you do have the option to not share your melodies), much of what you hear isn't terribly musical. Eventually some decent players will emerge and your explorations will likely get more melodious.
If you'd like to help in the effort to make more accomplished Ocarina players, start by dropping the $1 necessary to pick up an Ocarina of your own. If you have even the slightest interest in making music with your iPhone, this is a must-have application.
Ocarina is compatible with any iPhone running the iPhone 2.1 software update.
[Senior editor Christopher Breen is the author of iPhone Pocket Guide, third edition (2008, Peachpit Press).]
Note: When you purchase something after clicking links in our articles, we may earn a small commission. Read our affiliate link policy for more details.