TransGaming has announced the release of Rayman's Raving Rabbids for the Mac, a conversion of the game Ubisoft originally released for the Nintendo Wii video game console. Rayman's Raving Rabbids costs $24.95.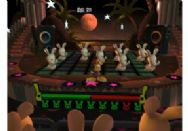 Rayman's Raving Rabbids is a series of mini-games in which you, as Rayman, must defend yourself from "crazed out-of-control bunnies" who have enslaved you and put you in a series of gladiatorial events. You run races on animals, fight in an arena, go on a wild west-style shootout using plungers, throw cows like shot-puts, milk pigs and dance.
The game features more than 70 trials, support for up to four players and multiple worlds to unlock and goodies to collect. The game has been rated E for Everyone by the ESRB.
System requirements call for Mac OS X 10.4.11 or later, Intel Core Duo processor, 1024MB RAM, ATI X1600, Nvidia 7300 GT or Intel X3100 integrated video or better, 1.4GB hard disk space.