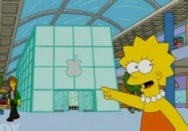 We'd be seriously shirking our Apple duties if we didn't alert you to last night's episode of The Simpsons which featured not one, not two, but around six minutes of gags aimed at our favorite computer company. The Springfield mall gets a "Mapple" store full of myPods, myPhones, and, of course the myCube: "fueled by dreams, powered by imagination." There are a gaggle of Apple jokes for the savvy and even a special appearance by Mapple CEO, Steve Mobs.
But why am I wasting time describing it to you when, through the magic of the Netotron, you can watch it for yourself! The full episode's on Hulu, but you can find the first relevant portion, excerpted for your viewing pleasure, after the jump.
Read more…
But for shame, Simpsons: you couldn't get the real Steve Jobs to play himself? I mean, you got Thomas Pynchon— Thomas Pynchon. Nobody's seen him in like forty years.
Well, we hope Steve enjoyed it in good fun, and is not calling a hit out on Matt Groening as we type this. Good luck, Matt.