Macessity has announced the release of the LapTuk Clear stand for Apple laptops. The stand costs $49.99.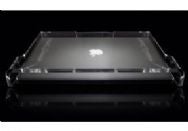 The stand is manufactured from 3/8-inch thick clear polished acrylic material. It's designed to fit the MacBook, MacBook Pro 15-inch, MacBook Air and PowerBook 15-inch models.
The LapTuk Clear keeps all ports and the drive slot open for access, and sports a "hot air relief" opening in the back. It's also suitable to use with any kind of Apple display or LCD panel weighing up to 35 pounds. A cable management slot helps you keep cords neat.
The LapTuk Clear measures 15 x 10 x 1.5 inches.