Acrylic Software has announced the release of Wallet 3, a new version of the personal information management application formerly maintained by Waterfall Software. It costs CDN$20 (US$16.12); upgrades are priced at CDN$5 (US$4.03).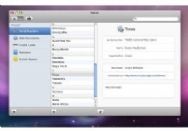 Wallet is a lightweight database application that lets you store important information, such as serial numbers, Web site passwords and other data. The information stored in Wallet is encrypted using 256-bit AES encryption.
The new 3.0 version lets you synchronize a single database with multiple Macs and iPhones using MobileMe. The update also incorporates a new user interface, the ability to extend group fields without limit, attach files to entries and more.
Wallet for the iPhone and iPod touch was also released on Monday; it can sync with its Mac counterpart using MobileMe or directly with the host computer via Wi-Fi. Wallet for the iPhone costs $3.99.
Wallet requires Mac OS X 10.5 "Leopard."