While most of the music you rip with iTunes is ready for listening right away, some tracks can contain extraneous sounds or silence that you may want to remove. Some examples are applause following music that is recorded live, introductions to live tracks, between-song banter on live recordings, or silence either before or after a song. You'll often find silence sandwiched between listed and "hidden" tracks on CDs; these tracks are only hidden because they follow a long silence added to fill up space (and make you think an album has finished). If you like the song in question, you'll probably want to listen to it without waiting or fast-forwarding.
There are two ways you can get rid of applause, introductions, and silence. The first uses iTunes, and it's easy to apply to any track, except one with a hidden track (which has silence in the middle). Start by finding a song you want to trim. If the part you want to trim is at the beginning, play the track until you get to the good part—the music—and note the time at which it starts. If the extra stuff is at the end, such as applause, find when the music ends and note that time.
Next, select the track and press Command-I. You'll see the iTunes Info window for that track. Click on the Options tab, and you'll see two fields labeled Start Time and Stop Time. If you want to change the start time, type the time you noted in that field; if you want to change the time at which the track ends, enter a value in the Stop Time field. Click on OK. The next time you play your song, both iTunes and your iPod (after your next sync) will take these new values into account.
Read more…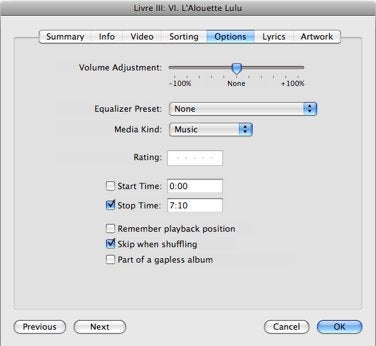 There's one downside to this, however. If you copy the track to another computer, or play it on another type of music player, these start and stop times won't be recognized. They're only recorded in your iTunes library; the actual track is not altered (which is a good thing). However, you may want to alter a track and completely remove silence or applause. That way, when you put it on another device or listen with other software it will be gone. To do this, you need to use editing software and trim the file itself.
One program you can use is Rogue Amoeba's $32 Fission, a non-destructive editing program that can work with a number of files formats, including compressed files such as AAC and MP3. The screenshot below shows a song opened in Fission. The first 1:45 or so are the Grateful Dead tuning up and talking. You may want to remove this, so you can hear the song right away. In the screenshot, that section is selected. You can move around in a track in Fission and play the music from any given spot to pinpoint the actual moment when the music starts or ends. Select what comes before or after that, delete it, then save the file. Now, you'll have your file without its introduction, applause, or silence—but keep in mind that the change is permanent; if you want to restore what you've cut, you'll either need to keep a backup copy of the file, or rip it again from its CD.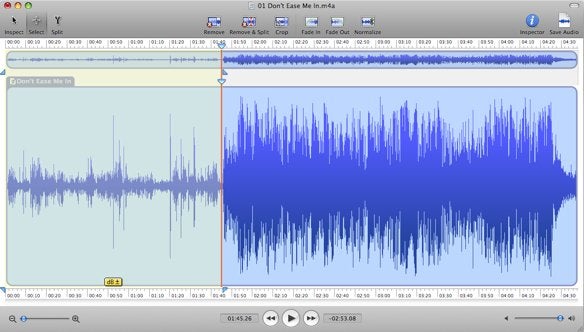 For songs with hidden tracks, the procedure is a bit different. Hidden tracks are appended on the last track of on album, following several minutes of silence, so you can't make changes with iTunes' Start Time and Stop Time settings. If you open a track like this in Fission, you'll clearly see the first song, then the silence, then the "hidden" song. You'll need to select the silence, then click on Remove & Split. Fission will delete the silence and split the track into two new tracks. When you save them, you'll have a folder with those two tracks, that you'll then have to tag correctly in iTunes to indicate which is the original named track, and which is the hidden track. (Both will contain the original tags so you'll need to change one of them.)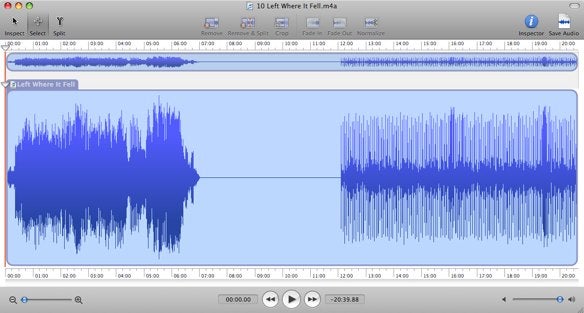 Note: When you purchase something after clicking links in our articles, we may earn a small commission. Read our affiliate link policy for more details.