At a Glance
Expert's Rating
Pros
Impressive audio quality
Customizable appearance
Great controls and interface
Very good FM reception
Lots of connection options
Touch-sensitive, wraparound snooze bar
Dual alarms
Cons
Large for a "clock radio"
No iPhone shielding
Limited alarm options
Our Verdict
Several years ago, when I was looking for a new clock radio for my nightstand, Boston Acoustics' Recepter Radio stood out for its simplicity, elegance, and performance. Unlike most clock radios, the interface wasn't littered with buttons, and the few controls it did have were intuitive and easy to use. Radio reception was excellent, audio quality was great, and Boston even got the smallest details right: the buttons were all soft rubber so they wouldn't make noise when pressed—I didn't have to worry about waking my already-asleep better half with loud, clicky buttons when setting an alarm. The Recepter remains one of my favorite gadget purchases, and it still sits on my nightstand.
I bring up this anecdote because Boston Acoustics' Duo-i AM/FM Stereo Radio with iPod Dock , available in mist (white) or midnight (dark gray), is a direct descendant of the Recepter. If you were to take the Recepter and add stereo audio, an iPod dock, and a bunch of new features, you'd get something much like the Duo-i. And in doing just that, Boston has preserved much of the Recepter's simplicity and elegance, making the Duo-i my favorite "iPod alarm clock" yet.
At 12.9 inches wide, 5.6 inches tall, and 8 inches deep, the Duo-i is chunkier than some of the iPod alarm clocks we've tested, but it's still small enough to fit on most nightstands—or a kitchen counter or a desk, for that matter. The front of the system hosts left and right 3.5-inch speaker drivers behind color-matched metal grilles; a large white-on-dark-blue LCD display; the unit's control knobs and buttons; a headphone minijack; and an auxiliary-input minijack (for connecting another audio source). Surrounding the front face is a strip of aluminum trim that acts as a touch-sensitive snooze bar: instead of fumbling for one button among many, you can fling your arm wildly at the Duo-i, and as long as your skin touches any part of the metal, you activate the snooze feature.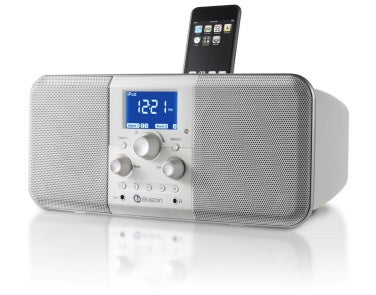 The top of the Duo-i hosts an iPod dock that uses Apple's Universal design; Boston Acoustics includes seven dock inserts for compatibility with most older iPods (newer iPods come with a compatible insert for use with Universal-dock accessories). The Duo-i's dock uses USB circuitry for power, so it correctly charges iPhones as well as all dock-connector iPods except the third-generation model. And although the Duo-i is not specifically advertised as being iPhone-compatible, I used an iPhone 3G with it without incident; however, when I tested the Duo-i with an original (non-3G) iPhone, the system produced the familiar audible "buzz" whenever the phone accessed the mobile network.
Finally, the back of the unit hosts a surprising array of connections. You get a second auxiliary input (this one using right/left RCA jacks); an audio output (also RCA) that's switchable between line-level and variable-level output; connectors for external AM and FM antennas (basic loop and wire antennas are included); a composite-video output; and a jack for the power cable. The Duo-i includes the necessary circuitry to support video output on the latest iPods and iPhones, and the system's power supply is internal, so there's no bulky power brick hanging off the back. There's also a mini-USB service port that is apparently only for repair and service. Overall, the system feels solid and well-built.
The Duo-i's LCD display is clear and easy to read, and it automatically adjusts to ambient light. Even better, you choose the starting brightness level—on a scale of 0 to 20—and the auto-brightness feature uses that level as the baseline.
The system provides two separate alarms; you can use one for weekdays and one for weekends, or one yourself and the other for another person. The alarms aren't as full-featured as those on some iPod clock radios we've tested—for example, you can't set each alarm to sound at different times on weekdays and weekends—but you can choose to wake up to an alarm tone, the radio, or your iPod. Whichever you choose, the volume starts low and gradually increases. There's also a sleep function that lets you listen to audio for up to 90 minutes before the system automatically turns off. The Duo-i preserves the time, alarm settings, and radio presets even if the power goes out or the system is unplugged.
Like its Recepter sibling, the Duo-i's controls are among its standout features. Other than the five radio-preset buttons (1 through 5), the radio has only five controls: three knobs and two buttons, all covered in soft rubber and relatively quiet. Each of the two buttons controls one of the Duo-i's alarms, cycling that alarm through Alarm On (Music), Alarm On (Tone), Alarm On (Music and Tone), and Alarm Off. The large central knob controls volume; pushing it toggles the power on and off. The right-hand knob tunes the radio; pushing it enters Seek mode. The left-hand knob does everything else: You press it to cycle through the audio source (iPod, FM1, FM2, AM, front auxiliary input, rear auxiliary input); you turn it to select the onscreen menus for setting audio source, screen brightness, bass and treble levels (-5 to +5 for each), alarm and clock times, and screen-display mode. I was able to quickly figure out every one of the Duo-i's controls and features without cracking the manual.
The only complaint I have about these controls is that, unlike the tuning knob on the Recepter, the Duo-i's Tune knob isn't speed-sensitive when tuning the radio; no matter how fast you turn the knob, there's only one speed at which it cycles through radio frequencies. (Oddly, the knob is speed-sensitive when setting the clock or either alarm.)
Speaking of tuning, the Duo-i's FM-radio performance is excellent. I was able to receive both distant stations and weak local stations clearly, rarely hearing hiss or static. AM reception in my area, on the other hand, was comparable to that of most iPod clock radios I've tested—only the strongest stations were received clearly.
Using the 1 through 5 buttons on the front of the Duo-i, you can store 15 presets: five AM and five each for the FM1 and FM2 "bands." Conveniently—and unlike on any other radio I've seen—you don't have to choose AM, FM1, or FM2 to access that set of presets; each preset button itself cycles through the three presets assigned to it.
The Duo-i also includes a credit card-sized infrared remote. Although the remote uses cheap "bubble"-style buttons, the button layout is clear, and in addition to iPod-playback and volume control, the remote provides direct access to every source as well as to radio presets. The remote's range is good, and a thin magnet on the back lets you stick the remote to either of the Duo-i's metal grilles—or to some other metal object—for storage when the system isn't in use.
While the Duo-i is large, its stocky size allows it to provide outstanding audio quality compared to most other iPod clock radios; in fact, in this respect the Duo-i betters some of the $300 speaker-only desktop systems out there. Bass response is solid down to around 80Hz without being boomy (impressive given the i-Duo's small speaker drivers), and treble is clear and detailed. Midrange isn't completely balanced—at louder volumes, the lower mids can be a bit "chesty" and the upper mids a bit weak—but this is a minor fault given the Duo-i's otherwise very good performance.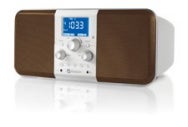 Finally, a fun extra feature of the Duo-i is that you can customize its look with a $15 set of P.O.P. (Personal Option Plan) replacement grilles, available in nine fancily-named colors: chili pepper, spanish moss, caramel, olive, glacier, rose bud, pearl gray, onyx, and chocolat. Once you've made the switch—a grille-removal tool is included—the new grilles look like they were there from the start. I tested the caramel (light brown) version of the POP grilles, and I liked the unique look.
Macworld's buying advice
Most iPod clock radios we've tested have had lower price tags than the Duo-i—somewhere in the $100 to $150 range. But most have been exercises in compromise: you get lots of features, but poor audio performance; or you get decent audio quality, but confusing controls. The Duo-i is a bit more expensive, but it suffers no such flaws. It's a quality desktop audio system that just so happens to bring an excellent clock radio along for the ride, with a great set of controls tying the two together. If you've got room on your nightstand or desk, consider splurging on the Duo-i. It's worth it.