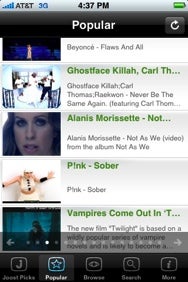 As a TV junkie, there are definitely times when I wish I could easily catch up on a missed episode via my iPhone. But due to my lack of forward planning, I rarely have the foresight to make sure I've either converted the latest episodes to an iPhone-friendly format or bought the video in question from iTunes before I set out on the road.
But nowadays there's so much video content available on the Internet, wouldn't it be nice to just cut out the middleman and stream it directly to the phone? The new free Joost iPhone application from the online streaming site of the same name lets you peruse their extensive video catalog from any place you can jump on a Wi-Fi network.
Joost's catalog is a little bit mixed—it's doesn't seem quite as broad in the television department as Hulu's, for example—but it does offer lots of music videos (over 18,000 according to their press release) and over 1,200 movies. And due to their partnerships with content providers, some of the videos are available outside of the U.S., unlike many of Joost's competitors.
While the video quality was pretty impressive in my brief tests, the player was a bit glitchy: for example, I couldn't resume a 30-minute show where I left off when I was kicked off my Wi-Fi network, and the browsing interface is a little haphazard. Future updates are slated to add Joost's social networking features and personalization options; hopefully, they'll bring refinements to the player mechanics as well.