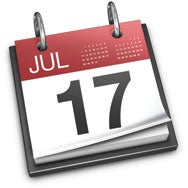 Now that MobileMe has gotten stable (knock on wood, touch rabbit's foot, cross fingers), I've come to depend on having that information synchronized between all of my computers. I take it for granted. While you could get close with Gmail's IMAP interface and the somewhat hidden Address Book Google sync feature, your calendars were left to fend for themselves (no, I don't consider the ability to view your Google calendars as read only as a solution).
Many people use Spanning Sync to accomplish this. The good news for you, and the bad news for Spanning Sync's developers, is that you don't need to buy a program anymore. Google happily announced yesterday that Google Calendar supports iCal via the much heralded CalDAV standard, which allows you to change your Google Calendars right inside iCal—even when offline—and sync quickly. You can even respond to invitations.
That is a great addition for Google fans. I'll be sticking with MobileMe because of its ability to sync other application data (like Yojimbo), but at one point, the ability to sync email, address book data, and calendars was all I looked for. Google supports all that data. Is this the missing puzzle piece keeping you from shedding your MobileMe shackles?