Nokia's new flagship phone, the touchscreen N97, features a large memory and advanced location-aware features.
The N97, launched on Tuesday, comes equipped with a 3.5-inch,16:9 touchscreen (the resolution is 640×360) and up to 48GB of storage; including 32GB of internal storage and another 16GB via a microSD card slot.
It also has a Qwerty keyboard that slides out from beneath the screen. The phone is expected to retail for €550 (US$690) before taxes or subsidies and ship during the first half of next year.
It is "the most powerful, multi-sensory mobile computer in existence," said Jonas Geust, vice president for Nokia's Nseries.
Included on the long list of features is a 5-megapixel camera with a dual LED flash, A-GPS (Assisted Global Positioning System), HSDPA (High Speed Downlink Packet Access) and Wi-Fi.
The Finnish phone giant also promises DVD-quality video capture.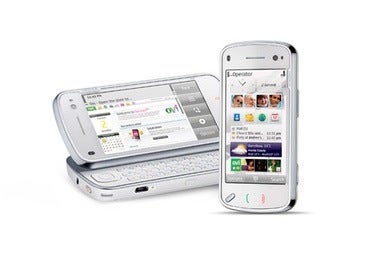 The growing interest for mobile social networking isn't lost on Nokia and is an important part of the phone. Nokia is introducing a concept called social location, which uses A-GPS sensors and an electronic compass to let users know exactly where they are.
Users also have fast access to social networks through the device's home screen, which makes it easy to update those networks with real-time information, Nokia said.
The phone will also be integrated with a number of services including the gaming platform N-gage, Share on Ovi and the Nokia Music Store.
But the phone, announced during Nokia World 08 in Barcelona, has some drawbacks, said Ben Wood, director of research at CCS Insight.
The N97 lacks support for fast upload speeds using HSUPA (High Speed Uplink Packet Access), the camera doesn't offer the highest resolution on the market and the materials used to build the device aren't the best quality, according to Wood.
"The N95 was a market changer, and the N97 is more an evolution of that," he said.
Still, Wood thinks the phone will attract advanced users and sell well. But it also leaves the door open to competitors, since the N97 probably won't ship until around June 2009.
Nokia has basically given its Korean competitors a blueprint of what an advanced phone will look like by the middle of next year. Korean companies develop new phones fast, according to Wood.
Apple also won't sit idle, Wood said. An iPhone with a Qwerty keyboard that borrows some of its design from the MacBook Air would also be a special entry to the market, he said.