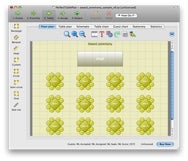 How many times has this happened to you? You're planning a formal state dinner when you realize that somehow you've accidentally seated the Ambassador to the Federated States of Micronesia next to the International Security and Nonproliferation Assistant Secretary! Suddenly, you need to nip a burgeoning international incident in the bud, but who to move and where?
Perhaps all of the ensuing wrangling could have been avoided if you'd simply used your Mac to help you figure out where to put all these visiting dignitaries. PerfectTablePlan not only lets you create table layouts but also helps you figure out where to put all your friends, enemies, and their respective friends and enemies. The program allows you to sketch detailed seating plans, create lists of guests, and even mark how much people like each other—a smiley face means two people are friends; a skull and crossbones icon indicates that it's best to seat these two nowhere near each other.
At $35, PerfectTablePlan might seem a little pricey, but avoiding just one outbreak of hostilities between two rival nation-states will make it pay for itself in no time. Or, for that matter, preventing Aunt Gertrude from throwing a glass of water in the face of her ex-husband at your next family reunion.
[via Cult of Mac]