The voice recognition features of the latest version of Google Mobile App got a lot of attention, but the program was fairly limited in what it let you do with your voice. What if you don't just want to search, what if you want to call people, or look up maps, or even send a Twitter message without the burden of extra taps?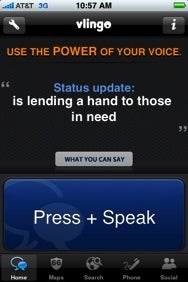 Vlingo on Wednesday announced the launch of its eponymous iPhone voice-recognition application, which aims to bring voice commands to several different facets of the iPhone's interface. Using voice recognition, the free application allows you to dial your contacts, search on the Web, look for maps, and even update your Facebook or Twitter status. You can either preface your search terms by identifying what kind of information you're looking for—for example, saying "Web search: iPhone applications"—or you can select from the categories at the bottom of the screen to narrow your search field.
There are a few thoughtful little features as well: the Web search can use Google or Yahoo to look for results, and saying a contact's name can automatically dial that contact unless told otherwise, saving extra taps. Although, in my brief usage this morning, I did find the application freezing up several times when I tried to use it.
Vlingo is a free download from the App Store and runs on an any iPhone or iPod touch running iPhone Software 2.0 or later.