Apple introduced two great portable devices this year: the iPhone 3G and the second-generation iPod touch, both of which improved on their predecessors. But the real improvement was the software that runs them.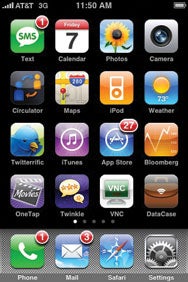 While earlier versions of the iPhone OS gave us hints of what was to come, it wasn't until iPhone 2.1 that the future finally arrived. It not only provides new features, such as Exchange support, multiple deletion of Mail messages, and refined location services, but also gives us the stability and performance that make those features worth using. And most important, it lets us add new capabilities and functions to our iPhones, with support for third-party applications and the enormous (and constantly growing) App Store catalog. iPhone 2.1 has turned a pair of merely great devices into a world-changing platform.
Read our overview of the iPhone 2.1 software (free *; Apple).
* The iPhone 2.0 software update was free to iPhone users; iPod touch users could upgrade for $10.
Go back to our list of Eddy winners